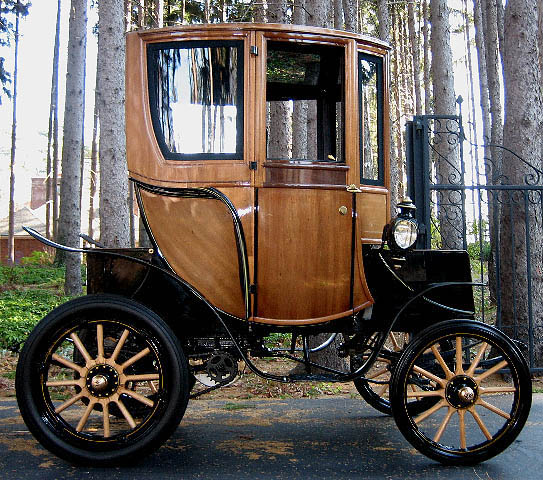 Early Electric Car Companies,
A & B
© Galen Handy 2022 v5.6
Electric car companies of the world, made before 1940, and listed alphabetically by brand name (when available).
Hobby cars after 1908 are generally omitted. Most makers of commercial electric vehicles are included, but not covered in detail.
The years given each company represent the span of electric car production, not necessarily the total life of the company. Many were previous horse-carriage, or bicycle companies, and several continued to make internal combustion cars post electric. The majority of these listings were proto-types, and never produced in volume.
A
AAA
1919-1922, Akkumulatoren-und Automobilbau AG, Berlin, Germany Alex Fisher
1922: Cars and vans for the German Post Office
Accumulator Industries
1902-1903. Accumulator Industries Ltd. Woking, Surrey, England
1902: Coach, 80 mile range, prototype
1903: Stanhope, 2-passengers, two 2.5 HP Lundell motors
AEM
1919-1927, Société d'Application Electro-Méchanique, Asnieres, Sein, France
1924: Electrocycle
Ajax
1901-1903 Ajax Motor Vehicle Co, 220 West Thirty-sixth St. New York, NY, Incorporated July, 1901 with stock of $10,000
Based on a simple one motor center-axle chain-drive patent assigned to Alfred Lissach Simpson & Harry Buchanan Palmer.
1902: Runabout, 2-passenger piano box. 1½ HP motor mounted on rubber cushions, 24 Volts, 14 MPH for 60 miles, pinion and gear reduction to an intermediate shaft, and then chain-drive to a sprocket on the differential cluster at the center of the rear axle.
1903: Runabout, 2-passengers, 1,050 lbs, a pair of reach rods between tubular truss axles, 60" WB, 28" wire wheels, 1½-6 HP (at maximum overload) motor, all ball bearings, with a Yale lock on cut out switch. The first speed position had graphite contacts, and succeeding speeds overlapped sequentially, as they shunted resistor steps, eliminating sparking––the last step partially shunted the field coils. All of this was mounted on a marble or slate base, with mica insulators. Reverse was by solenoid, with an interlock, actuated by a button on the control lever. 12 Gould or Exide cells were under the seat.
On March 28th of 1903 the R. H. Macy Company opened an 80,000 square foot automobile sales display in New York, Ajax and Baker were the featured electrics.
Alexandra
1905-1906 Phoenix Carriage Co Aston Road, Birmingham, England
Also made some gasoline cars
Brougham
Allen & Clarke Co
1909
2014 Adams Street, Toledo, OH Allison 1902 Spider A401, 2-passenger runabout, transverse front springs, wire wheels Allgemeine Betriebs-Aktien Gesellschaft 1909 26 Poststrasse, Koeln, Germany Altha Electric 1900-1905 Altha Auto and Power Co Dover, Delaware. (Chicago, IL) Aluminum 1897 Aluminum Motor Vehicle Co Chicago, IL American Beauty 1915-1916 American Beauty Car Co, Adrian, MI American Electric 1896 C. E. Woods Company, electrical engineers; Chicago & New York. 1896 American Electric Vehicle Co. 447 Wabash Ave. (show room & charging station) Chicago, IL 1899, January, American Electric Vehicle Co 1545 Michigan Ave. Chicago, 56-58 W. Van Buren St. 1899, December 30, American Electric Vehicle Co. 164 W, 38th St. New York 1896 Founded in early 1896 by Charles E. Corrigan; general manager & treasurer; Clinton Edgar Woods; electrical engineer, principal designer, and VP; Henry Potwin, president (Corrigan's father-in-law); and Frank S. Culver, vice-president. With capitol stock of $250,000. They had the first Mail Phaëton on the streets in April. American seems to have started business with no factory, perhaps just an assembly plant. The first five platforms were manufactured by the Elgin Sewing Machine & Bicycle Co. The Fischer Equipment Co made the bodies. Announced sales were to Montgomery Ward, Harold F. McCormick, Thomas B. Bryan, & W. G. Press. A pair of deliveries was made for both of the Charles A. Stevens & Brothers silk stores in Chicago. Patents were from C. E. Woods, Karsten Knudsen, T. L. Camp, H. H. Knepper, and Harry G. Osborn. American owned Karsten Knudsen's patent for an efficient one-motor two-wheel drive system employing a hollow armature shaft, through which ran a transverse driveshaft, with differential gearing in the motor housing, that drove the rear wheels by spur and ring gears. The cars were shod with salient solid rubber tires mounted on wooden wheels. C. E. Woods designed the heavier two-motor chain-drive vehicles. 1897 C. E. Woods left American, and started an eponymous electric car brand at the Fischer Equipment Co. After his departure, capitol stock for American Electric was increased from $250,000 to $500,000. 1898 May: Loren S. Dow, Philip Goetz, and Charles F. Smith, of the Indiana Bicycle Co, bought an interest in American, and started building cars based on the Knudsen patents in Indiana, as the first Waverleys. When the American Bicycle cartel took over Indiana Bicycle, and started using the Waverley brand for the Hassler/Sperry designed cars, Dow & Goetz left to organized the National Automobile & Electric Co, where they continued to make vehicles based on the Knudsen design. 1899 January: C. J. Richards, president; C. E. Corrigan, VP & general manager; A. H. Gilbert, secretary/treasurer; Harry Gould Osburn, chief engineer (and holder of battery patents); and Karsten Knudsen, design engineer. June: the company moved into a new factory at 56-58 West Van Buren St. December 26: Charles E. Corrigan announced that as of January 1, 1900, American would be headquartered in New York, with a factory in Hoboken New Jersey. The stated purpose was to be closer to affluent clients. December 30: J. Herbert Ballantine, George T. Lister, Myles Tierney, and George B. Hurst, purchased American and reorganized the company under the laws of New Jersey at $5 million (1 million of preferred and $4 million of common stock). With J. H. Ballantine, president; C. E. Corrigan, VP & general manager; G. T. Lister, secretary and treasurer. Joining them on the board of directors were, Percy Ballantine, Myles Tierney, George B. Hurst, H. G. Osburn, and electrical engineers John D. Adams and Henry Young Jr. 1900 Corrigan was awarded a gold medal at the Paris exposition. 1901 Corrigan sold his interest in American and went into the electrical conduit business. 1902 American went into receivership and George T. Lister purchased the assets. No evidence of further production. MODEL DESCRIPTIONS 1896 Mail Phaëton, (Surrey) the test platform. Two 2-hp motors sealed from dust and moisture, thirty-two 180 Ampere-hour Syracuse Storage Battery cells in rubber jars weighing a thousand pounds, five speeds forward by switching the battery in two groups with the pair of motors in series or parallel, a band brake was on the sprocket wheel shaft and an emergency brake, with electrical cutout, acted on the tires, wagon-style. Solid rubber tires and twin-motor chain-drive to the rear wheels, turning on Imperial ball-bearings. Break, Built for the Montgomery Ward Co of Chicago. Similar to the Phaëton except the motors drove the rear wheels with rawhide pinions against a gunmetal ring at the wheels. To climb a hill: intermediate gears could be inserted. The running gear was painted red and the body black. "Montgomery Ward & Co" was in large gold leaf lettering on the sides. This car was put on tour around the country, carried in a special Pullman car that cost $10,000. It had a 10' by 16' observation room with a full kitchen, pantry, buffet, two toilets, and slept 20 people in five Pullman sections. It traveled under the direction of J. Frank Pickering to publicize Montgomery Ward's mail order business. Trap 4-passengers with Dos-a-Dos seating, 120 lb 1.5 kW single motor, 40 Volts Brougham two 900 watt motors weighing 75 lbs each, 48 Volt 672 lb battery, Landau two 1.2 kW motors 100 lbs each, 64 Volt battery Top Carriage platform same as Brougham, duplex drive from the footman's seat in the weather out front, or from inside the cabin Delivery Wagon built on the Landau platform, two were built for Charles A. Stevens & Brothers, Chicago silk merchants. 1898 Runabout 2-passengers, folding top, curved dash, 2-hp motor, 84 Volt 80 Ah battery, 1,400 lbs 4 Road Buggy 1.6 kW motor 100% overload 8 Stanhope Mail Phaëton 4-Passengers with a folding top over the front seat. Break 4-passengers, two bench seats facing forward, dash leaning out at a 45% angle 2,850 Lbs. four fully elliptical springs. Trap 4-passengers Dos-à-dos Brougham outside driver looked over the passenger cabin from the back, no front hood 1899 Runabout with Top, 2½ hp motor, wood wheels Trap 4-passengers, Dos-à-dos, 4 hp motor Mail Phaëton 4-passengers, 4 hp motor 20 4-passengers, 16 mph, $2,500 24 Break 4-passengers, 4 hp motor, 16 mph, 150 Ah Battery, 1,850 lbs, $2,500 36 Brougham 2-passengers, 5 hp, 12 mph, 3,000 lbs, driver high outside in back, $3,500 38 Brougham 4-passengers, 14 mph, driver high in back 40 Hansom 2-passengers plus driver high in back, 14 mph 50 Omnibus 12 mph 60 Delivery 15 mph, 500 lbs load 61 Light Delivery 68 Delivery Wagon 2,500 lbs, 12 mph, 3,000 Watt motor 70 Standard Delivery Wagon 2,000 lbs load 71, 72, 73, 74, Delivery Wagons 80 Mineral Water Wagon 86 Emergency Wagon 14 mph 1901 Prices were cut for the pleasure cars, from $1,200 to $750, and from $1,500 to $850. They were probably liquidating remaining stock. American Electric & Power Co, 1899 Incorporated in 1899 at $1 million to make "all types" of motor vehicles. American Electric Car Co 1914-1916 2634 S. Michigan Ave. (showroom). In January 1914, Argo, Broc, and Borland merged. They continued operations until September 15, 1916. As each division made the same models in the same factories, the merger achieved few useful economies of scale, other than marketing. Frederick A. Brand from Broc was president. The cars were now called: American Argo, American Broc, and American-Borland American Electromobile 1906-08. 1571 River Street, Detroit, MI. Prototypes designed by Frank B. Rae. Built by the Massick Mfg. Co, Detroit American Juvenile Electric 1906-1907 American Metal Wheel & Automobile Company Toledo, Ohio. A very expensive toy for over-privileged children to drive around the estate. 1907 was a peak year for bank failures. A full size electric runabout, of reputable brand, could be bought for nearly the same price. Half size piano box runabout with stick seat, 41" long, 10 MPH, $800 Amesbury 1899 Amesbury Automobile Co, MA A brief coalition of Amesbury carriage makers; J. T. Clarkson, C. F. Worthen, and Edward R. Briggs. They produced an electric prototype with a motor designed by local electrician C. J. Bagley. Amesbury carriage builders Babcock (later, in Buffalo, NY) and Bailey went on to full production of electric cars. Anderson Carriage Co. 1884-1911 Port Huron, and then Detroit, Michigan Anderson Electric Car Co. Detroit, MI 1911-1933 See Detroit Electric. Anderson 1909, Anderson Carriage Manufacturing Co, 25th & Walton Streets, Anderson, Indiana George B. Wheelock, Jack E. Boucher Two-cylinder gasoline cars (disambiguation) Andover Electric 1910-1920 Andover Motor Vehicle Co. Haverhill St., Andover, MA Trucks Andreas 1900-1902 Sächsishe Accumulatoren-Werke AG, Dresden Germany Dr. Ernst Andreas, a designer of battery boxes Anthony 1897, Los Angeles, California At the age of 17, Earle C. Anthony built a simple electric runabout. It had a piano box body and a small motor behind the seat and directly over the rear axle, using a single chain drive to the rear axle. It had no apparent differential or suspension. Earl, with two brothers (Charles E. & H. K.), started the Western Motor Car Co. in Los Angeles. He became the nations most successful Packard dealer, the founder of clear-channel radio station KFI, and the pioneering independent Los Angeles television channel 9. A restoration of his electric car (Circa 1920, with the original mechanical parts) was part of his donation to the L. A. County Natural History Museum. Argo 1910-1914 Argo Electric Vehicle Co 1201-1215 S. Jefferson Ave. Saginaw, MI. Chicago salesroom, 2412-2414 Michigan Ave. Founded July 6, 1910 by Fred Buck, president; Theodore Huss, VP; Otto Schupp, secretary-treasurer. With directors, Judge Benton Hanchett, and Albert Morley Marshall. The company was capitalized at $200,000, with $50k each from Buck, Huss, and Marshall, and $15k each from Hanchett and Schupp. All were principles in the Lufkin Tool Co. Theodore Huss designed the Renault inspired Argo bodies. Argo Electrics were distributed, beginning late in 1912, by the Metzger-Herrington-Argo Co, 2412-14 Michigan Ave, Chicago IL. In November 1913 Argo announced plans to expand its Saginaw factory with a body assembly building three stories tall and 150 feet long. January 21, 1914 Argo merged with Broc and Borland, the models remained relatively unchanged, and were built in the same factories as before. Argo put all of the battery under the front hood in a tray that hung slightly below the chassis to keep the hood low. A Westinghouse motor was at the end of a short housing bolted to the rear axle, the back end of the motor came up under the seat at about a 23º angle. A short shaft drove the rear axle. The cars had ½ elliptic leaf springs fore & aft. With so much motor mass on the rear axle, hitting a bump at speed would be a jarring experience. MODEL DISCRIPTIONS 1912 A Brougham, 108½" wheelbase, 11½" road clearance, 60 Volts, steering wheel, steel hood and fenders, American Ball Bearing Co tube steel axles, 36 x 4" wheels, Motz cushion tires were standard, Hess-Bright bearings. A Cutler-Hammer controller provided six speeds, by a foot pedal, up to 25 mph. It weighed 3,200 lbs, $2,800 with an Exide battery, $3,200 with an Exide "Ironclad" battery, or $3,500 with the Edison Battery. K type 20 Truck, $2,200. 1913 The batteries had a 33% higher capacity than 1912 model, with 5-speeds (forward & reverse), Westinghouse 4-pole "railway" type motor at 80 Volts, Gemmer wheel steering, pressed steel chassis, and Exide Hycap batteries. They advertised "French Renault low swung design with low step." The cars were painted Royal Blue, Brewster Green, or Purple Lake, suitably striped. All bright work was sterling silver plated. Aluminum body panels, Broadcloth upholstery, matching broad lace trimming, a matching set of water resistant cravenette slipcovers was included. The dash had a Sangamo Ampere-hour meter and a Phinney-Walker 8-day clock. A Brougham, 4 passengers, on a 108½" wheelbase, 38 x 4" front wheels and 36 x 4" rear wheels, 85 mile max range, 3,400 lbs, clear vision windshield, other windows dropped into the bodywork; $2,800 B Roadster, 4 passengers, 108½" wheelbase, 40-cell Exide battery, 25 mph, 100 mile max range, mohair cape top, black enamel with silver trimming, Motz or pneumatic tires, $2,500. C Fore-drive Limousine, 5 passengers, steering wheel, 110" wheelbase, 3,200 lbs, 40-cell Exide Hycap battery. The driver had only 20" of legroom, 3,500 lbs, $3,100. 1914 Weston Mott (GM) Axles, Hess-Bright bearings, Westinghouse motors, and a foot actuated 6-speed controller A Brougham, $2,800 B Roadster, $2,500 C Limousine, 5-passengers, fore drive, 110" WB, 40 cell battery, $3,250 Trucks were available on a 1,000 lb load chassis with 13 mph top speed, or a 2,000 lb one with a 12 mph top. Both had three body options, open express, platform, or closed panel. 1915 A Brougham, 4-passengers, rear drive, 108" WB, 3½ HP motor, Bevel Direct Drive, 80 Volt battery, 5 speeds to 20 mph, cushion or pneumatic tires, $2,650 B Roadster, 4-passengers, 108" WB, $2,350 C Limousine, 5-passengers, front drive, 40-cell Exide battery, 75-mile range, 110" WB, $2,800 In 1915, A. O. Dunk liquidated Argo Electric. One model C Limousine and one model B Roadster are known to remain. I sat in the driver's seat of the Limousine; only a jockey would be comfortable there. Armstrong Electric 1896-1902 Armstrong Manufacturing Co Bridgeport, Connecticut. William Armstrong Phaéton 4-passengers, an early semi-Hybrid designed by Harry E. Dey. The flywheel was wound as a dynamo, with enough torque to start the 6.5 litter opposed twin engine, and move the car for short distances. Solenoids kept the valves open. The car also featured an electric clutch. Steered by a wheel, Cyclops headlight. This prototype remains. Armstrong Electric 1903-1904 M. Armstrong & Co, New Haven, CT Arnold Electric 1895 Bion Joseph Arnold, Chicago IL Arnold was an electrical engineer & subway designer known as "the father of the third rail" 4-passenger prototype steered from the rear. Arrol-Johnston 1912-1913 Arrol-Johnston Car Co Heathhall, Dumfries, Scotland. Sir William Arrol & George Johnston. 1912-1913, licensed by Anderson Carriage to build 50 cars under Detroit Electric (Anderson/Elwell-Parker) design and patents. One of these cars was displayed at the 1913 London Auto Show. They made gasoline cars for many years. Aspinwall Electric 1892 Washington DC Louis M. Aspinwall, Electric rail engineer at Westinghouse, Pittsburg, PA Tricycle Asprooth-Leoni 1926-1927 A. M. Leoni, Philadelphia, PA Hybrid Atlantic 1912-1920 Atlantic Vehicle Co Newark, NJ Trucks 1913 Chain drive with 2,000, 4,000, 7,000 & 10,000 lb load capacity. 1914 shaft drive with bevel reduction introduced on all trucks, with the addition of a 1,000 lb light delivery model, Timken axles. Battery located under the seat or chassis to customer preference. Exide or Edison battery. Atterbury 1910-1935 Trucks, see Auto-Car Aultman Electric Lorry 1908 England Trucks Ausonia 1903-1906 Milan Italy Vetture Elettriche Camona, Giussani, Turinell & Co Autocar 1899-1924 Auto Car Co. Founded as Pittsburgh Motor Vehicle Co in 1897. Became Autocar when company moved to Ardmore, PA in 1899. Louis Semple Clarke, president; John S. Clarke, secretary, with James K. Clarke. Primarily a truck company, they also made a few automobiles until 1911. Electric Trucks were advertised 1908 through 1924 Autocar pioneered shaft drive (first use in a US production car, 1901), and oil circulation systems. They invented the porcelain-insulated spark plug (patent sold to Champion), and were probably the first to use left hand drive. L. S. Clarke remained involved to 1929. Auto-Car 1903-1909 Auto-Car Equipment Co, Buffalo, NY. The name was changed to Atterbury Motor Car Co in 1909, no change in ownership. George Washington Atterbury from American Electric, Westinghouse, and Brunn. Atterbury's early electric busses were made while he was with Brunn. From 1910 to 1935 he continued to make vehicles under his own name. Trucks, delivery wagons, sight seeing cars, omnibuses, passenger breaks, trackless trolleys. Westinghouse motors and controllers. 1903 50 busses for the St. Louis worlds fair. Auto-dynamic 1900-1902 Auto-Dynamic Co 140 West 39th St. NY, NY Frank Tilford, Thomas W. Stevens, Arthur L. Stevens Trap, Hansom, and Brougham Auto-Electric 1940 Murphy Ltd. England Trucks Autolet 1904 Holson Motor Patents Co. Grand Rapids MI Auto-Mixte 1906-1912 Auto-Mixte Herstal SA, Liege, France Hybrid trucks Auto Red Bug See Red Bug Automatic 1920-1922, Automatic Transportation Company, 2933 Main St. Buffalo, NY. William C. Carr made golf-cart size cars, 8 feet long and 3½ feet wide, with a door on the curbside. It had an aluminum body over a wood frame with steel fenders. The motor rating was 35 Amperes at 24 Volts (1 HP). The series wound motor was in the same case as a silent-Chain reduction to an intermediate shaft that drove the left rear wheel with a roller chain. Three speeds forward through a drum controller. This funny little car was introduced as a cheaper alternative to the established makes of luxury electrics precisely when the last remaining successful electric car companies were shedding overhead and emerging as much smaller lower production companies in the face of the post war recession. Twelve hundred dollars didn't sound like a bargain. AE Type IV Runabout, 2-passenger 65" WB, 900 lbs, 18 mph for 60 miles, $1,200 AE Type VI, as the IV, with more rounded features. Averley 1899-1901 G. Averley Liege, then Lyon, France Ayrton & Perry 1881, Glasgow, Scotland An early electric tricycle. Two large wheels supported a seat in between, with a battery tray hanging underneath, and a small trailing wheel for steering. The Howe Machine Co of Glasgow built this tricycle. A spur gear on the motor shaft drove a large outside-toothed ring gear mounted to the hub of the left front wheel; the right wheel was not driven. Ten lead-acid cells. Likely to be the first vehicle with electric lights, one over each front wheel; bare bulbs without lenses or reflectors. B Babcock 1906-1912 the Babcock Electric Carriage Co. 224-42 West Utica Street, Buffalo, NY. Frank Augustus Babcock, president & general manager, headed the Buffalo Electric Carriage Co from 1900 to 1905. Between 1905 and 1912 the car and the company were called Babcock. The enterprise was first incorporated in December of 1905 at $100,000, with his sons; Frank Jr. was sales manager; Stephen C. Babcock, superintendent & purchasing agent; Frank L. Bapst, VP; Harry Yates, treasurer; C. A. Benjamin, secretary; Frederick G. Peck, designer; J. J. Coakley, advertising manager; E. M. Osgood, assistant superintendent. 1906 Babcock recapitalized the Buffalo Electric Carriage Co to form the Babcock Electric Carriage Co On October 12th, F. A. B. Jr. took a car on a 100-mile test drive from Jersey City to the outskirts of Camden, at 14 MPH, on a single charge. 1910 A new five-story factory was built of reinforced concrete and steel. 1912, the company was recapitalized again as Buffalo Electric. Bought out with stock; F. A. Babcock was not actively involved in the new management. Babcock produced a full range of colorful cars. They had steering wheels (lever optional) & suicide doors. MODELS 1906 1 Stanhope, The original Buffalo Electric design was continued. 2 or 3-passengers, full elliptical springs at each wheel, 2½ hp motor, forty cells under the seat, 18 mph, 50 mile range, $1,650 3 Stanhope special, $2,000 4 Four-passenger Stanhope, speed control by tilting the steering column, forty cells, electric brake 1907 1 Stanhope, 2-3 passengers, 3 hp motor rated for up to 300% overload, said to climb 28% grade, 40-cell Babcock battery, leather Victoria top, electric brake on controller handle, and double acting band brakes by foot pedal. Weston model R (39) Volt/Ammeter, storm apron & sides with celluloid windows, full elliptical springs at all corners, Sweet's patent concealed band wheels 32" at front & 36" at aft, drivers cushion, four wrenches, two running plugs and one charging plug. $1650 1 Stanhope Special, tilting steering wheel, 66 inch WB, lamps on dasher at front, solid or clincher tires, $1,800- 5 Roadster, 30 mph (with field shunt in) for short spurts, normal speeds 13-18 mph, 75-85 miles per charge, 32x3½ inch Palmer tires, wheel steering, wood chassis reinforced with steel plates, 24 cell Babcock battery, 78" WB, 1.5 hp motor (under seat), with 300% overload capacity, 1,500 lbs, $1,400 including leather top with rubber side curtains and storm apron. This model had a vertical hood front, but no faux radiator. It resembled an updated piano box runabout with bullet shaped spotlights at the dasher ends. 6 Victoria Phaeton, two-passengers, built on model 5 platform with finer coachwork and larger battery, 1.5-4.5 HP motor, 78" WB, double chain drive, 1,600 lbs, hinged steering wheel, leather fenders, expanding drum brakes at the rear wheels, and a brake on the counter-shaft. The controller had four speeds forward or reverse plus an "accelerator" (field shunt), $1,600. A model 6 was driven (slowly) from New York to Philadelphia (100 miles) on a single charge. 7 Brougham driver high out front with a speaking tube and steering wheel on the right hand side, two 3-hp motors, doors opened at B pillars, 40-cell Babcock battery, four speeds 8-18 mph, 50 mile range, $4,000. 8 Coupé, on model 1 platform, headlights on sides of front hood, doors hinged at rear, full un-skirted fenders, 3-hp motor, 3 speeds forward, 2 reverse, blue or green paint and cloth, $2,500- Depot Wagon, 2-motors, 48 cells 1908 1 Special Stanhope, 3-9 HP motor on rear axle, 40 cell 120 AH Babcock battery, Elwell-Parker controller, 2,050 lbs, $1,800 5 Long Distance Roadster, 26 mph, 2-6 hp motor, 36 cell 100 AH battery, 1,600 lbs, $1,500 6 Victoria, 26 mph, cowl mounted bullet headlights, the steering wheel folded out of the way for egress, body interchangeable with model 10 Coupé, $1,700 7 Brougham, two-3 HP motors, driver high outside at front with steering wheel, $4,000 10 Coupé, inside drive, twin chain, 1,700 lbs, $2,100 1909 1 Stanhope Special, 2-passengers, 66" WB, 1,900 lbs, 3 HP, 40 cell battery, full elliptic springs, single motor, wood frame, a carriage light at either side of the seat, $1,800. 4 Stanhope, 4-passengers, with fold down footrest and fold up backrest at front of car, two-motor drive through spur and ring gears at wheels, four carriage-lights at sides of seats, $2,250. 5 Runabout, 26 mph, 78" WB, 2 HP, double chain, high-speed motor, leather upholstery, $1,600. This model made the 1,244-mile tour of Illinois. 6 Victoria Phaëton, 78" WB, 2 HP, $1,800. 7 Brougham, with driver in front; high & outside, $4,000. 9 Coupé, 4 passengers, Twin motor drive through enclosed spur & ring gears at rear wheels, wood chassis with wishbone reach, $2,500 10 Coupé, 3-passengers, 78" WB, $2,200. 11 Town Car, with the driver in front of the windshield, $3,250. 12 Gentleman's Roadster, faux radiator, 15 HP motor at 84 Volts, 30 MPH, 100-mile range at 17 MPH with fresh battery, $2,000. 1910 4 Stanhope, $1,400 5 Runabout, $1,600 6 Victoria, $1,800 10 Coupé, 3-passengers, $2,200 11 Town Car 6-passengers + driver, shaft-drive, $3,250 12 Gentleman's Roadster, 94" wheelbase, red Pantasote top, $2,200 14 Coupé, 4-passengers, $2,600 1911 Improved foot controller gave three speeds in each hand lever position, 5-speed hand lever Most models were chain-drive. Philadelphia batteries were standard, Edison on request. Armored wood chassis, irreversible steering wheel (lever optional), skirted fenders, 1 Stanhope, 2-passengers, 80 Volts, solid tires, $1,400 5 Runabout, 2-passengers, 72 Volts, $1,600 6 Victoria, 2-passengers, 76 Volts, 78" WB, $1,900 10 Coupé, 3-passengers, 76 V, 78" WB, $2,300 11 Town Car, two people in the weather, but for an overhang, wheel steering, no windshield, 4-passengers inside a brougham body with landau bars, shaft drive, 84 Volts, 105" WB, $3,250 12 Roadster, 3-passengers, pneumatic tires, Timken bearings, 35 MPH, internal expanding drum brakes, faux radiator, 84 V, 94" WB, motor will develop 20 HP, $2,400. 14 Brougham, 4-5 passengers, removable rotating front seats, 15 HP, 23 MPH, 72 Volts, 86" WB, $2,600 16 Touring Car, five-passengers, with faux radiator, windshield, and cape top. Yellow was the standard color. The steering wheel bent over for egress, a twenty HP motor, with enclosed twin-chain drive, 105" WB, 60-cell Edison Battery standard for a 100-mile range at 15 MPH, $3,800. With lead battery, $3,250 1912 5 Runabout, $1,600 6 Victoria, $1,900 10 Coupé, $2,300 11 Town Car, $3,000 12 Roadster, $2,400 13 Coupé, $2,900 14 Brougham, $2,600 16 Tourabout, $3,800 17 Coupé, $2,900 18 Roadster, $2,600 20 Coupé, $3,200 Bachellé 1900-1902 Bachellé Automobile Co. 172 S. Clinton St. Chicago Il. Otto V. Bachelle Stanhope with top, two motors, rigid frame with reaches, 800 lb battery, 1,500 lbs total, 35-mile range. Bailey 1902 F. G. Bailey & Co Manheim, PA Bailey 1907-1916, S. R. Bailey & Co. Factory; 12 Chestnut St, Amesbury, Massachusetts. Offices; 895 Boylston St. Boston, MA Samuel Robinson Bailey, with his son, Colonel Edwin Warren Marble Bailey. Bailey was a carriage and sleigh builder (since 1856) who perfected steam wood-bending machinery for carriage wheels and sleigh bodies around 1870. Bailey was one of the first to put bicycle type (wire spoke) wheels on a light horse-carriage, although the heavier carriages and later automobiles had Bailey's patented artillery wheels. S. R. Bailey held many patents for improvements in sleigh and carriage making, both in construction methodology and design. Some of the later light horse vehicles featured Bailey Pivot Axles; these were incorporated in all of their cars. The main factory was sold in October of 1914. Limited production of the electric cars continued in a rented corner until July 17, 1916. 1899 S. R. Bailey and his head pattern maker, Walter Baird, made a prototype electric car with the general design of his later Victoria. It did not run well, as it could not handle the weight of a full battery. Bailey must have been aware that F. A. Babcock, the former king of Amesbury's "carriage hill", and builder of the factory they occupied, was going into the electric car business in Buffalo, New York. 1906, December The Bailey Company announced entry into the motorcar business with an electric runabout. The Company was incorporated and re-capitalized at $500,000, with $100,000 in preferred stock. Father and son retained half of the preferred stock; the rest of the stock was sold at market. The cars featured the bent laminated wood bodies and steam bent "joints" Bailey developed for light two passenger sleighs (known as cutters) and their Whalebone Road Wagons, giving better strength to weight (the Victoria body weighed 30 lbs). E. W. M. Bailey was a friend of William G. Bee, an Edison employee, who contracted Bailey to make battery boxes. Edison was always talking up his "soon to be perfected" alkaline battery that would revolutionize the electric car. The Baileys decided to enter into the motor vehicle field with a light open car designed for the "new" (reintroduced) Edison Battery. Unfortunately, the car was ready for production three years before the battery. Bailey was one of three makes to officially use the Edison Battery, along with Detroit Electric & Healey. Bailey claimed a 100 to 150 mile range (80-100 at full speed) with the Edison Battery. Baileys were driven by a Morse silent-chain, through an intermediate shaft, with GE type S, 50-Amp controllers, and a GE motor, hung low, under the seat. The front axle was manganese bronze; the rear axles were chrome steel. The entire car was made at the Bailey factory, except the electrical parts, tires, gears, and chains. The wood artillery type wheels were made with Bailey's patented hub, which held the wedge type spokes without thru-bolts; the rims were steel. The type "E" and "F" cars had unique suspension, borrowed from the Whalebone Road Wagon, using ball joints attached high on the body, which reduced lean during cornering. Bailey was justifiably proud of his products and would not make bodies for other vehicle makers, with the exception of the Essex steam car in 1906. He did not want other names on his work, or his name on the work of others. S. R. Bailey made a series of light, open, cars that were popular with electric utility companies of the northeast. The clever efficient designs were more appealing to engineers than the fashionable affluent women who were the main consumers of electric cars. MODEL DESCRIPTIONS 1907 A Victoria Phaëton, the frame sills were a composite of angle iron and steel plate, to make a flexible frame. The body frame was made of bent wood, eliminating the need for many finger joints. The body and panels were of three-ply bent wood, like an Eames chair, the entire body weighing only 30 lbs. The entire car, without battery and driveline components, was 825 lbs. A 30-cell 9-N.P. Gould battery was in a wooden box suspended under the car, and the motor was under the seat area mounted to an independent frame, along with the differential and countershaft assembly. Four speeds to 18 mph, or slightly faster with the optional high-speed version. Grey & Davis (also of Amesbury) made the lights. The cars had center tiller steering with a unique D shaped wheel; the flat part was at the bottom, the "wheel" did not rotate, but provided a grip to move the tiller mast from side to side for steering. A standard wheel-steered version was available. The steering column was hinged at the base for egress, and the speed control lever was at the top of the steering handle, interconnected with the brake pedal for safety. Band brakes were at the rear wheels and on the motor shaft. The standard lead battery had a range of 40-50 miles, a battery with 50% more capacity was available. $2,000 with the standard battery, a removable jump seat was $100. 1908 A Victoria Phaëton, a wider than normal seat accommodated 2 or 3-passengers, the Victoria top was of long grain leather, standard upholstery was broadcloth or leather in blue, green, or maroon. A 30-cell Gould lead battery hung in a box below the frame. A single foot pedal actuated two sets of brakes. 78½" wheelbase, 2½-7 HP motor, 2,000 lbs, a jump seat behind the folding top was optional, $2,000. 1909 A Victoria Phaëton, 60 Volts, 96 AH battery, 76" WB, 2,000 lbs, 34 x 3 ½" tires, $2,000. Late in the year Bailey advertised the new Edison Battery equipped Victoria, with a photo of Edison being driven by Col. Bailey. The ad claimed their Victoria to be the only car "designed for and using the New Edison Battery, which has recently been brought to a high state of perfection - a battery insuring a run of 100 miles on one charge, and no repair bills." 1910 A Victoria Phaëton, 2 or 3 passengers, $2,600 with an Edison A-6 battery, $2,350 with an Edison A-4 battery, or $2,000 with a lead battery. In September, the factory car (called "Maud") ran a test with the new Edison battery from New York to Boston and back, some 1,000 miles. Although not mentioned in Bailey literature (nor visa-versa), a Detroit Electric Victoria ran most of the same trip with equal success. 1911 A Victoria Phaëton, 48 or 60 Volt motor, 82" WB, 54" track, 825 lbs without battery, regular steering wheel, Edison battery 40 cell A-4 75-100 miles per charge, $2,350; 44 cell A-4 $2,400, 54 cell A-4 150 mile range, $2,600. For long mileage at lower speeds an A-6 battery of forty cells was available for $2,600. At 6¢ per KWh, the running expense was 1¢ per mile. B Victoria Phaëton, an updated version of the "A" with continuous steel fenders and other improvements. E Runabout, In November the company introduced a Runabout built to the specifications of the Edison Illuminating Co of Boston; it was driven to New York for the Electrical Exposition. The company ordered six cars. The battery was under a low sloping front hood, which was hinged to the rounded arch of a cowling. The lines looked a little clumsy, and they did not catch on with the wealthy women whom had come to be the principal users of electric cars. It was similar in design to the Lansden runabout; briefly made by the truck company of which Edison was an owner. 1912 B Victoria Phaëton, 82" WB, $2,600 E Roadster, 2-passengers, black leather upholstery, the standard paint scheme was black with carmine wheels & gear, 106" WB, 30 mph, motor under seat. Hess-Bright bearings on motor and countershafts, with top and side curtains, continuous metal fenders, windshield $35- extra, space behind seat for a trunk. Edison battery standard; A-4 battery, 60 cells, 60-80 mile range, 2,400 lbs, $2,250 A-6 battery, 52 cells, 75-100 mile range, 2,650 lbs, $2,500 1913 All models had redesigned model "E" type three-point spring suspension, using a long transverse spring at the front with ball joints at either end, and a shackle at one end to accommodate flexing. The body was hung from the top of the spring's arch at the center, so that the front wheels could move with more independence from the body, which would lean into curves a bit. A pair of full elliptic springs was at the rear. The cars had a normally functioning steering wheel. B Victoria Phaëton, 106" wheelbase, 60 A-4 Edison cells, Black & Carmine with black or green upholstery, Klaxonette horn. $2,600 Bailey made specialty versions of the model E, one was a four-passenger version, and others were designed as service vehicles for the electric power companies that were Bailey's best customers. E Roadster, 2-passengers, 132" wheelbase 60 A-5 Edison cells, 25 MPH, $2,900. E Roadster, 4-passengers, 132" wheelbase, 60 A-6 Edison cells, $3,300 E Light service Car, with ladder for changing streetlights and such, and a searchlight, which swiveled in all directions. E Light delivery wagon, with enclosed rear cargo area. F Roadster, the model "F," introduced in march of 1913, was mechanically the same as the "E," however it had a much nicer body; with flowing lines, a windshield, doors, better seating, and more storage. It had a wood frame and body combination, braced with steel. Hinged metal hoods front and rear. The body was hung from the spring centers, with a ball joint at the center of the transverse front half elliptic and fixed at the two rear springs. Similar in design to Bailey's famous Whalebone Road Wagon. Patented Bailey "Pivot" axles, twin brakes on 12" rear wheel drums and a 14" drum brake on the counter-shaft. The standard color was English Purple Lake, other colors on request at no extra charge, black leather upholstery. It came with 60-A6 Edison cells having a 225 Ah capacity and weighing 1,200 lbs. The GE motor, suspended under the rear hood, was rated at 26 Amperes; it drove a jackshaft through a Morse silent chain to twin drive chains. Six speeds forward and three in reverse with a GE rotary controller actuated by a lever atop the steering wheel. 112" wheelbase, 147" overall length and 65" width, 12" road clearance with the center of gravity 18" above the road, 2,700 lbs., $2,900. 20 MPH for 75-100 miles, with a top speed of 25 MPH. On October 14, 1913 Col Bailey drove the new model "F" Roadster from Boston to Chicago. 1914 The motor power was increased and steering was of the nut & worm type. Two sets of brakes, on the jackshafts & rear hubs. EVP Victoria Phaëton, 3-passengers, 82" WB, 32x3½" wheels, 54 cell Edison battery, $2,600 E Roadster, 4 passengers F Roadster, $2,500 Touring, 4-passengers, 132" WB, $3,300 E Runabout, a light service car marketed to electric and phone companies. With a 60-cell Edison A-4 or A-5 battery under a Slocum hood at the front, and a baggage compartment at the rear. $2,300 Light Delivery, on the Roadster chassis, 300 lb capacity 1915 F Roadster, 2-passengers, 112" WB, $2,900 with a 60 cell 187.5 Ah A-5 Edison Battery F Touring, 4-passengers, 132" WB, $3,300 with a 60 cell 225 Ah A-6 Edison Battery Cabriolet, $3,100 1916 F Roadster, 2-passengers, painted English purple lake with black upholstery, 112" wheelbase, 60 cell 187.5 AH A-5 Edison battery, 25 mph, $2,900 F Touring, 4-passengers, same paint style as Roadster, 60 cell 220 AH A-6 Edison battery, $3,300 1917 All production ended when EWM Bailey was called up for military service. S.R. Bailey died on July 10, 1917. Known serial numbers suggest about 300 Bailey electrics were made. Col. Bailey donated the Victoria called "Maud" (typical of factory test cars, it had been updated and was then a model "B") and a model "F" Roadster; to the Henry Ford Museum in 1928. They are now in private hands. Baker Cleveland, Ohio 1900-1905 Baker Motor Vehicle Co. 116 Jessie St. 1906-1915, 14-67 W. Eightieth St. at the L.S. & M.S. Railroad line Charging Garage and Repository at 7100 Euclid. 1915-1916 Baker Rauch & Lang Co. 2168 West 25th St. 1916 on: Baker (under various owners) made material handling equipment. Walter C. Baker: was the son of inventor George Wells Baker, chief engineer of the White Sewing Machine Co. W. C. Baker was with the Cleveland Machine Screw Co before starting the American Ball Bearing Co in 1895, with his brother-in-law Fred R. White, vice-president; F. Philip Dorn, treasurer; and Fred C. Dorn, secretary. The company flourished making ball bearing axle assemblies for light carriages, and automobiles. The Baker Motor Vehicle Company spun off from the American Ball Bearing Co, which had similar ownership and management. American made the running gear for Baker vehicles. Walter Baker's father-in-law, Rollin C. White, was Founding president of the Baker Motor Vehicle Co; his son Frederick R. White was VP; R. C. Norton, treasurer; M. L. Goss secretary & sales manager; with Fredrick C. Dorn; Walter Baker was a vice-president and lead design engineer. Baker was an important motor vehicle innovator of the early era. Although best known for the electric cars that bear his name, and his early land-speed record attempts, he came up with metallurgy, design, and manufacturing processes that helped make all cars practical, such as the modern ball bearing front axle/steering knuckle, shaft drive rear axles, and the "fully floating" rear axle. The 1902 Baker Torpedo was the first vehicle to be fully aerodynamic (enclosing both driver and running gear), and the first to have seat belts. 1897 Baker, with Fred Dorn, started building his first electric prototype. Walter and Fannie Baker owned a Woods Electric. 1898 The Baker Electric Car Company was founded by Baker, with his father-in-law, brother-in-law, and the Dorn brothers. Walter Baker's design approach was in light efficient cars, having little friction loss at gear or bearings, as the path to practical personal transportation. His first runabouts were powered by ¾-HP Elwell-Parker motors. 1899 An Elwell-Parker traction motor was delivered to Baker in May, In mid August it was announced that Baker was constructing a new light electric carriage. The financing and character of the enterprise was such that Baker could wait until he had a fully "sorted out" vehicle before making a car for production. A single story wood-frame assembly building was rapidly constructed on one of two adjacent lots that Baker purchased on Jessie Avenue, a couple of blocks from the American Ball Bearing factory. Thomas Alva Edison bought the second production car made: and used it to test the alkaline battery he was developing. The factory kept the first one. 1901 On August 7th a Baker Stanhope with a 600 lb Porter pasted-plate battery went 187½ miles on a charge. The run started from the Porter factory in Chicago. In October, Baker completed a larger five-story brick factory next to the assembly building at 116 Jessie St., the factory was expected to come on line in the spring of 1902. Production at the small shop was about two cars a week Before the end of the year, the company became a corporation, with capitol stock of $200,000. New to the board were Arthur B. Rust, Howard White, Charles A. Niman, Clayton K. Fauver, and George H. Kelly 1902 Baker built his first racecar, to demonstrate the possibilities of an efficient motor vehicle made with his patented American Ball-Bearing Co axles and hubs, the 3,100 lb, tandem-seat, fully aerodynamic, Torpedo. It used a 12 HP Elwell-Parker motor driving the rear differential through a Whitney roller chain. The cost was thought to be around $10,000. The wheels were wire, with canvas covers that gave them a solid-disc-wheel look. The car had a Torpedo shaped streamlined body made of "doped canvas" painted black and stretched over thin wooden slats; the two occupants sat on sling seats with seat belts. It was similar to an old wood and canvas canoe, turned upside down. The body was removed and replaced to seat the occupants; it was more like a full motorcycle fairing than an automobile body. On Memorial Day Baker drove the Torpedo, with C. Edward Denzer in the second seat, switching the battery connections as the car accelerated, for a speed test on Staten Island. The Torpedo went 80 mph on a half battery; unfortunately, the car slid out, due to rough paving on a curve. The right rear wheel caught a streetcar track and collapsed, causing the car to lose control and hit spectators, resulting in two fatalities and ten injuries. Due to very bad press, the car was not raced in public again, but was rumored to have run as fast as 120 miles per hour on the full battery: 105 is more likely. In late January of 1903 the Torpedo had been rebuilt, painted a light color, and was on display at the London auto show. 1903 Beginning March 28, 1903, Bakers were on display at the 80,000 square foot R. H. Macy Co auto show room in New York. Baker completed the 750 lb, single seat, Torpedo Kid. It ran 40-45 mph on dirt horse tracks, and, with a motor rated at only 1½ HP; it beat gasoline cars with three to six times the horsepower in head-to-head races. The Kid, driven by W. J. Hastings, ran a speed test on the hard packed sand of Ormond Beach the following year; it covered a mile in just under a minute. The speed was not official due to the illness of one of the timers. MODEL DISCRIPTIONS 1900 Commercial production commenced in March. As they were limited to a 5,000 square foot assembly shop, the bodies and frames were probably farmed out. Runabout, 2-passengers, with a piano-box body, weighing only 530 lbs, with ten Gould cells weighing 186 lbs, forming a 60 Ampere-hour battery, packed five cells to a tray, located under the seat. It had a ¾ HP, 20 Volt, Elwell-Parker motor weighing 85 Lbs, with a 400% overload capacity. There was a single chain drive to the center of the rear axle. A band-brake was on the motor shaft, there was also a foot brake, operating on the differential assembly, for emergencies and parking. The car ran with two speeds forward, up to 12 mph, and one in reverse. It had an advertised range of 20 miles, and came with rustproof wire bicycle type wheels, with 2" wide pneumatic tires. Suspended by a transverse elliptical leaf spring in the front. The body was attached to the center of the top bow, hung by a "U" shaped bracket, which attached to the body front about half-way up. The center of the lower bow was bolted to the center of the front axle. This reduced shock from either front wheel, and reduced body roll. A pair of elliptical leaf springs was at the rear corners. Very similar in concept to S. R. Bailey's Whalebone Road Wagon design. All was mounted on a simple steel tube frame, which was pinned and brazed. It was reinforced with enameled hickory sidebars. A nickel-aluminum alloy was used where possible. The center steering tiller came up from the floor just behind the dash. By August, five Runabouts were ready for sale at $850 each. Phaëton, advertised as having a lower body "suitable for ladies," as it had a lower threshold to accommodate dresses, was introduced late in the year. A field-shunt aka "speeder" was optional. $850 Each car received a 300-500 mile road test prior to sale. A practice hard to keep as sales increased. 1901 Runabout, now weighing 650 lbs, with a 175 lb battery, and a 40-mile range. The ten cells were rated at 90 Ah. An Elwell-Parker 20 Volt motor ran up to 1,800 rpm with 78-81% efficiency at 30 Amperes, drawing 18 Amperes on level asphalt. Phaëton, as in 1900 Stanhope, 2-passengers, 1 HP Elwell-Parker motor, folding top, three speeds forward or reverse to 14 mph, the new first speed position had series resistance to make startup smoother, 3" pneumatic tires, otherwise like the runabout, 800 lbs, and $1,600. This car was designed for Mrs. Baker. 1902 Runabout, $850 Phaëton, $850 Stanhope, $1,600 Imperial, a new model, Whitney roller chain, 24 Volts, 14 MPH, field shunt (speeder), 30" wheels with 3" pneumatic tires, 800 lbs, leather buggy top optional. 1903 The production cars had three speeds forward and reverse, with a control lever actuated motor brake and a pedal operated "emergency brake." Runabout, $850. Imperial Carriage, piano box runabout, 68" WB, 52" gauge, 950 lbs, 30" artillery wheels, 14 MPH "normal" speed, 17 MPH maximum speed, 1 HP E-P four pole motor with rocking brushes, knife switch controller with spring loaded positions so that the working part of the switch snapped open or closed, regardless of the speed of the lever, avoiding excess arcing. 40 miles per charge, the rear axle was driven at the center with a single Whitney roller chain, 12-cell battery, with top, painted black with Brewster green or blue running gear, $1,200 Stanhope, with Victoria top, $1,600 Physicians Chapelete, 800 lbs, 14 mph, Victoria top, $1,200 Newport Runabout, 2-passengers. Designed for summer at the beach house; this runabout had a wicker seat, cloth upholstery, and a fringed canopy top for shade. It had a curved leather dash similar to the stodgy Stanhope, 65" WB, ¾ HP motor, 24 Volt, $1,500 1904 All light chain-drive models had rustproof wire wheels, ball bearing Elwell-Parker motors, a lever brake on the motor, and foot brake on the rear axle, Runabout 2-passengers, center tiller, 14 mph, 650 lbs, $850 Physicians Chapelete, 2-passengers, side tiller, 800 lbs, folding buggy top, $1,200 Imperial, 2-passengers, side tiller, 815 lbs, $1,200 Edison Imperial, designed for the Edison Battery, which was taken off the market before many were sold. Stanhope 2-passengers, 900 lbs, Victoria or open top, $1,600 Newport Runabout 2-passengers, wicker seat, ¾ HP 24 V, $1,500 Motor-front Surrey 4-passengers, bevel-gear shaft-drive, 48 Volt battery under the front seat, with tiller or wheel steering, detachable rear seat, $2,650, Introduced at the January 1904 New York Auto Show at Madison Square Gardens. This was the first of the production "motor front" shaft drive cars. The motor was far forward, ahead of the axle and under the hood, allowing a very long driveshaft to the bevel drive rear end, with a single U joint at the axle end. Autocar (gasoline) made the first American shaft drive production cars in 1901. 1905 Runabout 2-passengers, side tiller, 700 lbs, wire wheels, 24 Volts, 40 mile range, 13 mph, $1,050 with top Imperial 850 lbs, 12 mph, artillery wheels, with buggy top $1,200 Stanhope 975 lbs, 12 mph, $1,600 Physicians Chapelete Motor-Front Shaft Drive Cars Surrey 4-passengers, 1,800 lbs, bevel gear shaft drive, 48 Volts, $2,500, or $2,650 with fixed top Depot Carriage 4-passengers including a driver and footman out front in the weather, bevel-gear shaft drive, 2,300 lbs, $3,000 1906 As the cars became heavier and more coach-like, Walter Baker lost interest, and Emile Gruenfeldt (from the German Daimler Works) became the chief engineer. Baker remained as a VP and owner. After the first of the year they begin to make cars in the new factory at Edgewater Park on the Lake Shore & Michigan Southern rail line, adjacent to the new ABBCo factory. Shaft-drive, with bevel-gear rear axles, was introduced in more models. Styling for the new Broughams had a distinctive, aggressive, lower look, with headlights near the top of the A pillars. This style met market resistance, and the company returned to bodies that were more conventional the following year. Standard equipment for all models included; a Weston m39 Volt/Ammeter, a Veeder trip odometer, and a tool kit. Imperial 2-passengers, 1 hp 24 V motor, 17 MPH, center axle chain drive, 1,000 lbs, battery under seat, 68" WB, two headlights, $1,200 Stanhope 2-passengers, 1,050 lbs, one headlight, two carriage lights, buggy top, platform as above, $1,600 Suburban 2-passengers, 1,750 lbs, A new motor-front introduction, 48 Volt 2½ HP motor, 22 mph, 40 mile range, bevel drive, 70" wheel base, folding Victoria top and rain apron, $2,000 Speed Wagon A special version of the Suburban, which could go 32 mph. Two of these were delivered to the New York City Fire Department. Surrey 4-passengers, 2½ hp 48 Volt motor behind front axle, 17 mph, bevel drive, 2,100 lbs, 86½" WB, $2,500, $150 extra with cape top. Depot Carriage 4-passengers, two in cozy Coupé cabin, Driver and footman out front under an overhang, 2,450 lbs, 24 cell lead battery, 36" artillery wheels, motor under hood behind front axle, 40-mile range, $3,000. Interior Drive Brougham 4-passengers, 2,200 lbs, 3½ HP 48 Volt motor in front of axle, 17 MPH, 86½" WB, twin headlights on the "A" pillars, $3,500 Exterior Drive Brougham Driver high & outside behind the passenger compartment, 2,800 lbs, otherwise much the same as the inside drive model, 20 mph, $4,000 1907 The model letters indicate the chassis type. Many chassis had more than one body designed for them. They are grouped accordingly. The new factory was fully equipped and operational; Baker went a bit crazy making a wide verity of vehicles. New models of the Brougham, Landaulet, and outside-drive Coupé were introduced in January. The new more conventional enclosed car models were from a French designer. The use of silent chain or gear reduction on some models suggests that they might have started using high-speed GE motors. The classic models, with center axle chain drive, were still offered. Stanhope 2-passengers, 28 Volts, 68" wheelbase, Palmer tires, center chain drive, 50 mile range, 1,100 lbs, $1,600 Imperial 68" WB, 1,050 lbs, 1 HP, 40 mile range, 14 and 17 mph, 30" artillery wheels, $1,200 Suburban 2-passengers, 1,850 lbs, otherwise as 1906 Surrey 86½ inch wheel base, 2,2500 lb., $2,650 with top Extension-Front Brougham 4-passengers plus operator, 6-hp, 6 speeds to 20 mph, 80 Volts, 89" wheelbase, outside drive with steering wheel, $4,000. Landaulet as Brougham, without extension front, with drop top over cabin, 4,000 lbs, $4,000 Depot Carriage 2½ hp motor, silent chain reduction, bevel drive, same trapezoidal hood as the faux radiator roadsters, 2,400 lbs, $3,000 J Queen Victoria 2-passengers with a driver high up in back, 56 Volts, 86½" wheel base, 2½ hp motor, and 80-mile range. Two foot operated brakes on the rear axle, and a lever operated brake on the transmission shaft, planetary gear reduction and bevel shaft drive, 2,400 lbs, $3,000. L or P A new Runabout, Victoria, and small Coupé were put on one of two chassis, and the bodies were interchangeable. These cars had the motor under the floorboards driving the center of the rear axle through a single chain. The "P" chassis models had a longer front hood Runabout 2-passengers, 1,500 lbs, $1,800 Victoria Coupé, straight front, 2-passengers, inside drive with a wheel, faux radiator, 1,650 lbs, $2,000 M Roadster A new Model, introduced in the spring of 1907, incorporating the design influence of Gruenfeldt. 2-bucket seats, 30 mph, 3½ hp at 64 Volts, six speeds forward and three in reverse. The motor was under the floorboards, planetary gear reduction to bevel shaft-drive, faux-radiator hood. The arch shape in the patent drawing and introductory press release seems to have been changed almost immediately, or by time of production, to a chamfered style hood. The frame was of armored wood with a 95" wheelbase. The car was lowered somewhat by mounting the axles on top of the lower leaf springs, but it still looked a bit tall for a sports car. The standard paint scheme was grey, with red running gear and upholstery, 2,400 lbs, $2,250. Gruenfeldt used this car to compete in some hill climbs. R or S The Runabout and Runabout Coupé were available with a regular or faux radiator hood. Bodies were interchangeable and available separately Runabout 2-passengers, wheel steering, 1,500 lbs, $1,800 Runabout Coupé 2-passengers, inside drive with a wheel, 1,650 lbs, $2,000 Q Coupé, New model; 2-passengers plus driver and footman outside in front with no weather protection, not even an overhang. The style looked similar to the Columbia coupé but had a smaller cabin, and the battery was under a hood in front, whereas the Columbia had a box underneath. 2 HP motor, 48 Volt battery, three speeds to 16 mph, tiller steering, 2,375 lbs, $3,000 Baker started a light truck department making deliveries and express wagons. 1908 Patents were filed in January for Gruenfeldt's new continuous torque Rotary controller. It used four resistance elements, providing up to nine speeds with minimal arcing and jerking. Stanhope, Victoria top, $1,600 Imperial, with buggy top, $1,200 Chassis: 68" WB & 48½" tread, 28 Volts, full elliptical springs, 1¾ HP motor, 3 speeds forward & reverse w/knife controller, single chain drive F Chassis, 92½" WB, Renold chain reduction to bevel rear drive, 2½ HP motor, semi-elliptical springs front & rear, F Coupé, 2-passengers in cabin with driver and footman out front in the weather, lever steering, $3,000- F Depot Carriage, similar to Coupé with roof over driver, headlights, $3,000 I Motor-Front Chassis with motor under front hood, 89" WB, 34" by 4½" Artillery Wheels, 6 HP motor, drum controller, 6 speeds forward 3 in reverse, 80 Volts, 140 Ampere-hour 1,400 lb Exide battery, semi-elliptical springs front and rear, Renold chain reduction to bevel drive, two Bodies I Brougham, outside driver with steering wheel in front I Landaulet, with the driver in front of the windshield, $4,000. J Surrey, 86½" WB, otherwise like "F" Coupe, $2,600 J Victoria, 4 passengers, driver up high in the back, 86" WB, $3,000 R Runabout, 2-passengers, wheel steering, with faux radiator, body blue, running gear yellow, chain reduction and drive, 30-cell battery, 70 mile range (117 in a test run), 22 MPH, tubular axles, pressed steel frame, $1,800 L or P Queen Victoria, 2-passengers, tiller steered, $1,800. L Coupé, $2,200 L Extension Coupé, new introduction with inside drive. M Roadster, 2 passengers + rumble seat, wheel steering, and faux radiator, with planetary gear reduction to shaft drive bevel gears, armored wood frame. 95" WB, 3½ HP motor (300% overload) mounted on two point spring suspension near center of car, 80 Volt 950 lb battery. Upgraded to 9 forward speeds to 40 MPH, internal expanding brakes on rear wheels, and a brake on the motor shaft, equipped with shock absorbers. Standard colors, blue with yellow running gear, $2,500. A one-ton truck was introduced. 1909 Baker put shaft-drive into most models. The armature shaft was connected to an adjacent parallel driveshaft through a Renold silent chain, for speed reduction, in a cast aluminum case. Motors were from General Electric. Edward H. Remde designed some bodies of this period. He became chief engineer after Gruenfeldt retired and was with Baker until the merger with R & L. In January, Baker launched an aggressive new marketing campaign, looking for new sales agencies, and expanding advertising to full-page color ads. In 1909-1911, First Lady Helen "Nellie" Taft drove a Baker Victoria at the Summer White House in Beverly, Massachusetts. Baker also made a special baggage delivery wagon for the White House. It had an 85" WB, and 34"x3" solid tires. The body was designed and built by the Brown Auto & Carriage Co; it had a load capacity of 1,000 Lbs. President Taft was from Ohio, and favored Ohio cars. Two of the popular early models were still available. Imperial, 2-passengers, single chain drive Stanhope, 2-passengers, single chain drive, 1¼ HP motor, 68" WB, foot and hand brakes, full elliptical springs, 14 cells of 9 MV Exide, side tiller, ball bearings throughout Motor front models Suburban, 2-passengers Surrey, 4-passengers, cape top F Town car, driver behind the battery hood, outside, with tiller steering. A Coupé, with two out front in the weather and two cozy inside H Runabout, a piano box with Victoria top I Motor-front Brougham, 6-hp GE motor, outside front drive with wheel steering. 89" WB, 80 V I Landaulet, as with Brougham, with fixed windshield & folding top, 4,000 lbs, $3,500. J Victoria, 4-passengers, Driver high in back with tiller L Runabout, 1,800 lbs, 70" wheelbase, armored wood frame, 24 cell battery, 2 hp motor, $1,800 M Roadster, 2-passengers + rumble seat, 3½-10 HP motor, 32 cell 11 P. V. battery, armored wood frame, planetary gear reduction, wheel steering, 95" WB, 2,400 lbs, $2,250 The Queen Victoria & Straight front Coupés were available on either the P (P1) or P Special (P2) chassis, the extension Coupé was only on the P2 chassis. P1 Chassis, 71" WB, 32 by 3½ " tires, 48 Volts, GE motor rated 2 HP + 300% overload, 20 MPH, Elliot type steering knuckles, Chassis only $2000 P1 Queen Victoria, 2-passengers, Body $300 P1 Coupé 2-passengers, Body $800 P2 Special chassis with heavier springs and larger 56 Volt battery, 2½ HP motor P2 Extension Coupé, 4 Passengers, new model, inside driver, $2,500 R Runabout, 2-passenger Faux radiator, 71" WB, 2½ HP motor, wheel steering, with faux radiator, blue body with yellow running gear, chain reduction and drive, 1,900 lbs, $1,850. Both the body and running gear of this Runabout were designed by Emil Gruenfeldt S Runabout, a new model introduced at the New York Auto Show in January, 2-passengers, 2-hp, 30 cell 11 plate battery, single chain drive, live rear axle, wheel steering, 71" WB, 1,900 lbs, faux radiator, $1,850 S Runabout Coupé, 2-passengers, faux radiator V Coupé, Light Express Wagon, 2-passengers, open box bed, and center chain drive 1910 Baker built a new Cleveland showroom and service garage on Euclid Avenue at the corner of East 71st Street, with sleeping quarters upstairs for chauffeurs. Most models had bevel-gear shaft-drive. A controller with a locking system was employed in all shaft-drive models. The new models had an 80" wheelbase accomplished by moving the front axle forward. The ABBCo rear axle housing was of drawn sheet metal; semi-floating axle shafts were vanadium steel with ball bearings. The bearings were ground to a tolerance of .00025 inches. Shaft drive was through a Renold silent chain at the motor end, with two U joints in the shaft. They had a continuous torque drum controller with six speeds forward and three in reverse. In the 1910 models, Baker briefly used Westinghouse motors. On August 30, 1910, they ran a car for 201.6 miles on a single charge with a specially made Willard lead battery; later in the year, they achieved 244.5 miles with an Edison battery. Baker retained two single-chain-drive models with 68" WB and 28 Volt batteries Imperial (piano box runabout) $850 Stanhope $1,000 For the bevel drive models voltage was increased from 48 to 56, and the wheelbase to 80" P2 Queen Victoria 2-passengers, $2,000 w/shaft drive, $1,850 w/chain drive P2 Straight front Coupé $2,400 w/shaft drive, $2,250 w/chain P2 Extension Coupé 4-passengers. $2,600 w/shaft drive, $2,500 w/chain drive. F Motor front Long-chassis Bevel gear, 92½" WB, 56 Volts F Coupé F Depot Wagon I Motor-front chassis Shaft Drive, 89" WB, 80 Volts, I Brougham, $3,500 I Landaulet, $3,500 J Motor-front Short chassis, Shaft drive, 86½ " WB, 56 Volts, J Rear drive Victoria $2,000 J Surrey, 4-passengers, cape top, lever steer, side curtains, $2,200 Suburban 82" WB, 56 Volts, open or Victoria tops S Runabout faux radiator, 60 Volts, 25 mph, continuous torque drum controller, $2,000 w/shaft drive, $1,850 w/chain S Runabout Coupé $2,400 w/shaft drive, $2,250 w/chain, $700 body only M Roadster Faux Radiator, steering wheel, new controller with 11 speeds to 30 MPH, 95" WB, 80 Volts V Coupé Special Landaulet 6-passengers, with a top and windshield for the driver, and a cozy convertible cab for four others. Painted black, with maroon running gear, striped in carmine, maroon leather upholstery. Made for Mrs. L. P. Stephens of Trenton New Jersey. The car was made generally available by special order. 1911 Baker went back to General Electric motors. Except for the old Stanhope, all models were shaft drive. Stanhope 2- passengers, open single chain drive, 28 Volts, 68" WB, 48½" track, 30 by 3" tires, single headlamp, 2 carriage lights, $1,000 The small cars were all built on the P special chassis with a wheelbase of 80 inches and a track of 50. The Victoria and Coupés used a 28-cell lead battery; the runabouts used 30. An Edison Battery of 40 A-6 cells or 50 A-4 cells were available at extra cost. 32 by 3½ inch pneumatic or 34 by 3½ inch cushion tires were available. P2 Runabout 2-passengers, faux radiator, blue with yellow running gear, $2,000 (body $300) P2 Runabout Coupé 2 passengers, faux radiator, $2,400 (body only $700) P2 Queen Victoria 2-passengers, $2,000 (body $300) P2 Straight front Coupé $2,400 (body $700) P2 Extension Coupé 4-passengers, $2,600 P2 Special Extension Coupé 4-passengers, $2,700 (body $900) M Roadster 80 Volts, seats 2, 95" WB, 34 by 4" tires on artillery wheels, leather upholstery, $2,500, 64 cell Edison battery at additional cost Motor-front cars Suburban 2 passengers, 82" WB, 56 Volts, Black body with red seat panel and gear, $1,500 Surrey Seats 4, 86½" WB, 56 Volts, cape top, $2,200 Landaulet 80 Volts, seats 5, 89" WB, 34" wheels, $3,500 Brougham Seats 5, 89" WB, 34" wheels, 80 Volts, $3,500 Depot Wagon 4-passengers (2 in weather 2 in cab), 92½" WB, 56" track, 56 Volts, $2,200 There was a full line of commercial vehicles 1912 The cars used a GE series wound motor, which turned the driveshaft through a Renold Silent Chain to a bevel-drive rear end. The chain sprockets were reversible to give longer service. Wheel steering was through bevel gears, five speeds forward and three in reverse by a hand lever under the steering wheel. The upper half of the windshield could be opened forward for ventilation and visibility. The cars had a new octagonal hubcap design to accommodate a standard wrench. Baker went from the constant current controller with a series battery, to the split battery series/parallel system. The White House replaced their 1909 Baker Victoria with a 1912 model. Perhaps Mrs. Taft, recovering from a paralyzing stroke, wished to keep the 1909 at the summer place. V Victoria, 56 Volts, semi-floating rear axle, Runabout, new model, wheel or lever steering, 32 cell battery, 11 M. V. Exide Hycap battery, blue body with grey striping, nickel plated bright work, 88" WB 50" track, Mohair buggy top, $2,300 V Runabout Coupe, same chassis and faux radiator hood the Runabout. For 2-passengers, Doctor's Coupé body, $2,400. $700 for body alone. VA Special Extension Coupé, larger interior then 1911, fully skirted patent leather fenders, aluminum body panels, odometer on flex shaft for convenient location, 2,450 lbs, $2,700 Outside drive Brougham, Wheel steering, $3,500 Landaulet, like outside drive Brougham with a drop top over the cab, $3,500 Baker introduced some new lighter Broughams. Colonial Brougham, inside drive with steering wheel, 92" wheelbase, $3,100 Extension Brougham, 107" wheelbase, 84 Volt battery, steering wheel at left front swivel chair, the aluminum body panels were painted green, blue or maroon. The patent leather fenders were fully skirted to the body, fully floating rear axle, triangular pane carriage lights at "B" pillars and headlights, $3,500 Commercial Vehicles: 84 Volt batteries, GE motors, and twin chain drive to the rear wheels X delivery chassis (600-1,500 lbs) A Police patrol wagon was added to the body styles O chassis light truck, (1,500-3,000 lbs) U chassis heavy truck ((3,000-5,000 lbs) 1913 Baker featured Exide batteries, and six forward speeds. The front seats now swiveled, and a steering wheel was used in the front drive cars. The cars all had bevel/shaft drive, with a Renold reduction chain at the motor end of the shaft. These cars were dynamometer tested before shipping. Victoria, 2-passengers, 80" WB, $2,000. VB Coupé, 4-passengers, new design with colonial style top and rear panels, full limousine back, rain visor, 88" WB, rear seat tiller steering, patent leather fenders, $2,800. VA Coupé, same, with forward drive and wheel steering, $2,850. VAF Extension Coupé, 4-passengers with rotating chairs in the front and a bench at rear. Rear drive, 30-cell battery, $2,700. Z Brougham, These cars had the carriage lights high up on the B pillars behind the quarter glass just in front of the door. Black body with Blue, maroon, or green aluminum panels, Waterloo Broadcloth or leather interior, artillery wheels, 92" WB, $3,100. ZF Brougham, same, with forward facing seats & forward drive, $3,200 W The W series Roadsters were designed by Edward H. Remde (patent D-45021) and replaced the Victoria model. They were introduced in May, before the model year change. They resembled a stretched out Victoria with squared off hoods and two doors. 88" wheelbase, 34-cell thin-plate Exide battery, it ran at 30 mph, with 32 x 4" pneumatic tires, a folding Pantasote top, side curtains, and a fold down windshield. Blue body with grey striping & blue leather upholstery, metal fenders skirted to the body. The motor drove the propeller shaft by silent enclosed chain; the counter shaft was coupled though 2-U joints to a bevel-drive rear end, $2,300. WA Roadster, with steering wheel, WB Roadster, with tiller steering 1914 A new series of Broughams and Coupés were advertised as being a half-ton lighter. These cars had rain visors, Baker got around the Hanlon patent by making the angle fixed, R & L didn't, and they were sued (winning on appeal) by Anderson/Detroit Electric. Most cars featured a Lanchester-Daimler worm drive, with 11-1 reduction, made by ABBCo under license, which eliminated the need for silent chain reduction. The front seat folded out of the way into the firewall, frameless door windows and "invisible drip molding" were introduced. The interiors, by the Parisian fashion designer M. Paul Poiret, used imported fabrics. DA New Light Coupé, 2,913 lbs, 23 mph, wheel steering DB New Light Coupé, lever steering VAE New Light Coupé. bevel drive, tiller steering, $2,800 VAF New Light Coupé, bevel drive, wheel steering WA Roadster, as 1913 WB Roadster, as 1913 BBD Brougham, 5-passengers, a new light model, with Lanchester-Daimler worm drive, 80 Volt Hycap Exide battery, The big cut glass carriage lights were at the sides, on the B pillars, just in front of the doors. The Poiret interiors were in matching tones of old gold, wine, & shimmering grays, $3,000 O 1 ton delivery truck, $2,835 X 1,000 lbs Chassis $1,900 U 4,000 lbs CC 7,000 lbs 1915 Advertised as the "Light Weight Baker Electrics" the battery was cut to 32 cells, Pressed steel frames with cantilevered rear springs. Clearly designed to compete with the new Milburn. Two sets of drum brakes were operated by two pedals. Leather or Broadcloth upholstery in blue, green, or maroon. WA Roadster, 2-passengers, wheel steering, bevel drive, $2,300 WB Roadster, 2-passengers, steering lever, bevel drive, $2,300 VAE Coupé, 4-passengers, lever steering, Bevel drive, $2,600 VAF Coupé, Light Coupé, as VAE with wheel steering DA Coupé, light Coupé, 4-passengers, Front seats folded completely away, 23 mph, wheel steering, worm drive, $2,800, bevel drive $2,600 DB Coupé, as DA with lever steering, $2,800/$2,600 BBD Brougham, Double Drive. $3,000 with bevel drive, $3,250 with worm-drive. April Prices were cut to $2,000 for the Roadsters and $2,475 for the light Coupé. June 1st Baker merged with Rauch & Lang, as the future for passenger cars showed less growth than the expanding business in material handling vehicles and contract body building. Led by Milburn; there was increasing competition from new companies making electric cars. The merger also resolved the Baker patent infringement suit over R & L's suspension system, which violated the Gruenfeldt patent. Combined capitol value of $2.5 Million, with $1.5 Million for Baker. An immediate effect was to cut the advertising budget. Advertisements for the two companies reflected the younger more trendy appeal of the previous year's Baker ads, dropping the rather dark toned pretentious ads that R & L was running, featuring the historic coaches of royalty. That December, the R. M. Owen Co was merged into the group, with Raymond Owen becoming a vice president of marketing for the Owen Magnetic. The Owen Magnetic platform was made at the Baker plant near the lake, along with a growing line of electric material handling and tow vehicles. Although a few models of lighter cars were sold as Baker's for about a year, the electric pleasure cars going forward, and all bodies, were made at the Rauch & Lang factories. Much of the manufacturing, marketing, and design talent were from the Baker side, but the growth areas were in electric specialty vehicles, and custom bodywork, especially woodies, for gasoline vehicle companies. G. H. Kelly was Secretary of Baker R & L and President of the Electric Automobile Manufacturers Association. In Late 1915, GE became a major investor in the company, doubling the capitol value to $5 million; they got three seats on the board. GE components were in the Owen-Magnetic, but R & L kept using Hertner motors & Controllers. 1916 DA-6 Coupé, 4-Passengers, 90" wheelbase, 7 speeds, $2,475 BBD-6 Brougham, double drive, $3,000 1919 The Body Building enterprise and industrial material handling companies went separate ways. The dwindling pleasure car business was sold as a brand, with tooling and remaining components, including car parts and assemblies, to a coalition of former dealers in Chicopee falls. Baker went on as a specialty and material handling vehicle company at the Edgewater Park factory (later relocated). "Raulang" continued as a contract body company at the old R & L factory. Both companies lasted well into the second half of the twentieth century. Baker & Elberg 1894-5 Kansas City, MO. Dr. Henry C. Baker & John R. Elberg. Tricycle Runabout, with one electric motor driving both rear wheels by friction pinions at either end of the extended armature shaft. Patent #532,026 filed April 6, 1894, issued Jan 8. 1895. Piano box runabout, 2-passengers, two motors driving the rear wheels, steering by wheel with a knob on it. A Texas banker named Stone purchased this car and had it upgraded by J. A. Barrett in New York. It weighed 3,000 pounds and had one seat. Rawhide friction pinions rode against large metal flanges on the rear wheels, 15-18 MPH. Banker Brothers 1896 Banker's Juvenile Electric 1905 Banker Brothers Co, Baum & Beatty Streets, Pittsburgh PA Runabout A half sized electric Stanhope. Westinghouse 1½ HP motor, 3-12 MPH, up to 30-mile range. 52" wheelbase, 12 cell Exide battery. Bardwell Electric 1901 H. H. Bardwell, Flint MI Barrett & Perret 1896 Elektron Manufacturing Co, New York, NY John A. Barrett & Frank Elvord Perret were Edison alumni. When Edison moved Manufacturing from Manhattan to Schenectady (GE), and research to Orange, New Jersey, they formed a partnership to make the Perret motor, and other electrical equipment. 1896 Prototype with a Brewster Body (the first on a motor vehicle). See Perret. Barhoff 1900 Hartford Accumulator Co Barnes 1899 Barnes Cycle Co Syracuse, NY Runabout, 2-passengers (Van Waggoner) Barrows Electric Auto-Buggy 1895-1901 C. H. Barrows Electric Vehicle Co, Willimantic, CT, and then (1897) New York, NY Charles H. Barrows designed some rather impractical vehicles. Mechanical Horse A motor wheel, with battery boxes on either side of the wheel, which could be attached as the front wheel for any vehicle. Tricycle Two-passengers, single front-wheel drive. The motor was mounted to a lever that pressed a friction wheel against the large front wheel. Later Tricycle, a motor mounted on the forks above the front wheel, drove the wheel by means of a chain, with a large diameter sprocket on the wheel. The battery hung in boxes on either side of the drive wheel. The battery weighed 100 Lbs had a potential of 30 Volts with a capacity of 250 Ampere hours. 1897 Riker 1-HP 79 lb motor, 16 cell battery 14 lbs per cell, friction pulleys on the two drive wheels 1901 Doctor's Phaeton, a fancier body utilizing the latest version of the Barrows motor wheel, with larger battery boxes hanging on either side. Bartlett Electric 1915 J. C. Bartlett Co. Philadelphia PA Batten-Dayton 1912 A truck? Beardsley 1913-1917 Beardsley Electric Co 250-60 W. Seventh St. Los Angeles, California Factories; 1914-1915, San Fernando Road at Wilhardt St., Burbank, CA 1915-1917, Culver City, CA. Volney S. Beardsley was a successful dealer of Warren-Detroit, Firestone-Columbus, & Columbus Electric, automobiles. His California Automobile Co. was located at 1250-1260 West 7th St. (Corner of Witmer). Floods hit the Columbus factory in the spring of 1913 halting production, and Volney decided to make his own cars. He teamed up with electrical engineer John Thompson Shannon, who designed a special hi-torque traction motor for the car, and truck builder Watt L. Moreland, with financing by M. Elsasser. L. Goldwater, Morris Cohn, and Charles H. Sorg. Incorporated August 29, 1913, with $100,000 in stock to build electric cars and trucks at the Moreland Truck Co plant in the San Fernando Valley. Sales started at Beardsley's "California Automobile Co," in downtown Los Angeles, and a car was displayed at Hamburger's Department Store on Broadway. Product deliveries begin around Thanksgiving. The cars were at the 1914 Los Angeles Auto Show, and they got press coverage by driving a car to Riverside to prove practical distance ability. In March of 1914 J. T. Shannon drove a Beardsley up the steps of the Los Angeles Courthouse, at the Broadway street entrance, "backing down with its own brakes," and then running up the steepest hill in downtown Los Angeles, without the motor overheating. The cars used Westinghouse motors, and had a 100" wheelbase. They featured Houk wire wheels and Gould batteries. 1914 Model 100 Brougham, 4-passengers, $3,000 Model 200 Roadster, 2-passengers, faux radiator, $2,500 Model 300 Victoria, 4-passengers, all seats forward, $2,750 1915 Harry Hazel Culver, who drove a Pierce Arrow, became an investor and first VP; a new factory was built in his eponymous Culver City. Ground was broken in August, and the new factory opened in November/December of 1915, it was in production through 1916. To enhance their claims of practicality Beardsley ran a series of tours for distance. More than a dozen Beardsleys took an outing to The Mission Inn in Riverside, California. They also toured other destinations that took a full day at the road speeds of the time, traveling on city streets and two lane highways, with many hills, potholes, ruts and dips. Mrs. Minnie Beardsley drove a car over 1,000 miles in ten days, averaging 106 miles per day. Beardsley put on an elaborate presentation at the Panama-California Exhibition in San Diego. In addition to a display of their cars and trucks they provided two specialty vehicles for the Expo, an ambulance and a "Treasury Car," with secure locks, to pick up cash from the entry gates and the concessions. Both vehicles were painted white with gold lettering. The cars had a 103" wheelbase and a five-speed pedal operated controller. 100B Brougham, 5-passengers, rear or duplex lever steering, fully equipped, 3,350 lbs, 25 mph, $3,000 200B Roadster, 3-passengers, wheel steering, faux radiator, 42 cell 13 plate 168 Ah Gould battery, 40 mph, $2,600 300B Victoria, 5-passengers, duplex lever steering, 36 cell 15 plate Gould battery, 3,350 lbs, 25 mph, $2,750 ½ Ton Truck, $1,900 1 Ton truck, $2,350 1916 Following a January board meeting, the directors elected V. Beardsley, president and manager; H. H. Culver, 1st VP; and R. H. Raphael, 2nd VP. Beardsley had sales offices as far away as Denver and Salt Lake City. The cars came in a black body with blue or green panels, and white or black enameled wire wheels. Model 100 Brougham, 5-passengers, 104" wheelbase, 156" overall, 76 Volt Battery 80 mile range, five speeds, Duplex drive, lever steering, 3,600 Lbs. $3,000 Model 200 Roadster, 2-Passengers, $2,500 Model 300 Victoria, 4-Passengers, $2,500 Model 400 Coupé, 4-passengers, $2,250 Model 500 Light Coupé, 2-passengers plus a foldaway front seats, $1,285 Town Car, 85 miles per charge 1917 The business was closed in February; assets were absorbed by the Moreland Motor Truck Co and shipped to their factory in the San Fernando Valley. Just over 200 cars were made. BEF 1907-1913 Berliner Electromobilfabrik GmbH, Berlin Germany Belmont Electric Automobile Co. c. 1916 Wyandotte, MI Limos & commercial vehicles Announced production of a hybrid Benton Harbor 1895-1896 Benton Harbor Motor Carriage Co. Benton Harbor, Michigan A. Baushke & Bros. Gas & Electric prototypes Bergmann 1907-1922 Bergmann-Metallurgique, then Bergmann Elektriztatwerke AG, Berlin Germany Bersey 1893-1899 W. C. Bersey 28 Victoria St. Westminster SW, London England. Electrical Vehicle Syndicate Ltd. London. London Electric Cab Co Walter Charles Bersey built electric cars, cabs, and buses. The cars had large ring gears on each rear wheel, driven by a motor through jackshafts, with two sizes of interchangeable spur gears. It seated four, and had center pivot steering with the shaft coming up through a tube to a worm gear turned by a small vertical wheel at the top, similar to the helm of a boat. The semi-dry battery was in a sliding drawer hung beneath the body, and featured quick-change battery boxes that were exchanged by means of a hydraulic lift. The early cabs had a 3½ HP Lundell motor and ran at 9 MPH for about 30 miles. The production bodies were built by Arthur Mulliner. These were replaced in the spring of 1898 by a growler design built by the Glouchester Railway Wagon Co. They were faster (12 MPH), but even less reliable. 50 were ordered. Burdened by the cost of building a dedicated power plant, and hobbled by tires failing under the weight of batteries, the Taxi enterprise lasted from August 19, 1897 to August 1899. Berwick 1904 Berwick Auto Car Co, Grand Rapids, MI Runabout, 2-passengers, 3 speed, 15 mph, $750. BGS 1899-1906 La Société de la voiture Bouquet, Garcin, et Schivre, Neuilly Seine, France. The company built their own batteries. In a test, they made 162.7 miles on a charge. 1899 Trap 4-passengers vis-à-vis, chain-drive to rear wheels 1900 Victoria (interchangeable bodies); 4-passengers, 2,200 lbs, 770 lb battery, 4 HP 88 lb motor with an intermediate shaft driving chains to the rear wheels, 7 speeds to 15 MPH. Binghamton 1920 Binghamton Electric Truck Co 250 Main St. Binghamton, New York. In 1920 a few 2-passenger Coupés were made Binney & Burnham 1899-1902 Boston, MA Birmingham 1903 the Birmingham Electric and Manufacturing Co. Alabama Announced production of an electric auto July 1903. Bissell 1909 Bissell Electric Co (F. Bissell Co), Toledo, Ohio F. E. Bissell made a prototype in 1909 Blakeley 1902 Edward B. Blakeley Newport, RI A single vehicle made for a race Blakeslee 1906-1907 Blakeslee Electric Car Co Cleveland, OH. Took over De Mars, later it became the Williams. Bleichert 1936-1939 Bleicherd Transportanlagen GmbH, Leipzig, Germany Bogard 1895 England 2-seat Dog-cart, 5,060 lbs Borbein Electric 1904-1907 the H. F. Borbein Co, 2108 N. 9th St., and then, to 1910, the Borbein Automobile Co. St. Louis, MO Borbein took over Brecht and continued making steam and electric runabouts. They made bevel gear and chain drive platforms, with complete running gear, for body makers. Some touring cars were sold "in the white" without engines. Blimline 1897 Sinking Spring, PA Sebastian Blimline. A typical early piano box runabout. This one has a photo in the Smithsonian Collection. Blondel & Crepin 1901-1905 Amiens, Somme, France Borland 1912-1914 Borland-Grannis Co Factory, 310-324 E. Huron Street, Chicago, IL Retail Salesrooms (closed April 1913), 2634 Michigan Avenue. 1914-1916 American Electric Car Co, Saginaw, MI, after merger with Argo & Broc. Bruce Borland was the younger son of lumber baron and commercial real-estate owner John Jay Borland. Bruce graduated Harvard in 1901 as a mechanical engineer. He and his wife, Harriet, were happy with their two Columbia electrics, and in 1910 formed a partnership with his older brother Chauncey Blair Borland and Uri Balcom Grannis to make electric cars. Richard Mansell was also involved. Rather than start from scratch: they bought Ideal Electric. A Borland Brougham was driven from Chicago to Milwaukee on one charge. In 1914 they merged with Argo and Broc as "American Electric." 1912 The chain drive cars were on The Ideal Motor Car platform. A transverse motor was under the seat in this double side-chain car. A band brake was on a drum at one end of the motor. The motor and/or the drive assembly were removable as separate units. Coupé, lever steering Brougham, 4-passengers, chain drive, 80 Volt Westinghouse motor, 92" WB, 30" front and 32" rear wheels, cushion tires (pneumatic optional), running board 12" above ground, $2,000 41 Brougham, more conservative design, chain drive, 5 passengers, 40 cell Exide battery, rear-drive only, by lever with horizontal controller lever, $2,500 45 Colonial Coupé, 5 passengers, revolving and collapsible front seats, 93" WB, a smaller Coupé targeted at ladies, forward or rear drive, $2,700 50 Coupe, 5 passengers facing forward, front or rear driving position, the rear seat drive version had a revolving seat and a companion folding seat; 96" WB, shaft drive, cushion tires, 40 cell Exide battery, $2,900 52 Roadster, steering wheel 60 Limousine de Luxe, seven occupants, steering wheel, driver in weather behind windshield, body by C. P. Kimball & Co., $5,500 Truck, open bed, chain drive, 1,200 rpm GE motor, 1,500 lb load, $2,100. Truck, panel van, lever or wheel steering, $2,250. 1913 Borland made a big advertising push in 1913. Five models were offered with high-speed GE motors using double reduction. Exide batteries. The motor was suspended by springs at the center of the car. Six forward speeds with a range up to 100 miles. The cars were warranted for 12 months, except tires, battery, and normal wear & tear. Ligget front axle, ball bearing knuckles, Weston-Mott floating rear axle with F & S Ball bearings and a Brown-Lipe differential, L Colonial Brougham 5-passengers with front or rear-drive, on 96" WB, $2,900. L 1 Colonial Coupé, 3-passengers, steering wheel, $2,900. 41 Brougham, 5-passengers, chain drive, 92" WB, $2,500. 45 Semi-Colonial Coupé, 5-passengers, smaller motor and shorter wheelbase than regular Coupé, $2,700. 50 Regular Coupé, rear seat drive, shaft drive, $2,900 52 Roadster, 2-passengers, wheel steering, 35 MPH, $2,550 60 Limousine body by C. P. Kimball & Co, Outside Drive with steering wheel, 123" WB, $5,500 Trucks remained chain-drive. 1,500 Lb truck, closed body, $2,250 1914 The continuing line was all bevel drive. 50 Coupé, 5-passengers, fore or aft lever steering, 96" wheelbase, six speeds forward and three in reverse 40 cells, and a silk umbrella, $2,900 52 Roadster, 2-passengers, 96" wheelbase, wheel steering, 42-cell 11 plate Exide battery, folding windshield, GE controller 6 forward 3 reverse, 34"x4" tires, $2,550 60 Limousine, C. P. Kimball body 1915 50 Coupé, 4-passengers, front or rear drive with lever steering, 96" WB, $2,550 52 Roadster, 2-passengers, Wheel steering, 96" WB, $2,250 60 Limousine, 7-passengers (5 in the cabin), wheel steering, $5,500 1916 50 Coupé, 4-Passengers, 80 Volt 3½ hp motor, six speeds to 22 mph. Available with a forward or rear driving position, $2,550. 52 Roadster, $2,250 60 Limousine, 7-passengers, chain-drive, $5,500 Bouhey 1898-1902 Sté. des Usines Bouhey Paris, France Bouhey made machine tools such as lathes. Boston Electric 1907 Concord Motor Car Co, 79 Milk Street, Boston, MA Boty 1901 Brussels, Belgium Société anonyme des matériels et installations électriques Brecht 1901-1903 Brecht Automobile Co, 1207 Cass Ave. St. Louis, MO Gus Von Brecht had a butcher's supply company that went into the automobile business with H. F. Borbein, who bought the business in 1903. Steam & electric runabouts Briggs 1889 Amesbury, Massachusetts Carriage maker Richard Briggs These were electric streetcars. British Electric Car Company Ltd. 1908-9 Oxford Court, Camden St., London, England British Electromobile Co Ltd. 1909 1 Queen Victoria St., EC London, England Brittannia 1896-1898 Brittannia Electric Carriage Syndicate Ltd. 1898-1899 Brittannia Motor Carriage Co. Ltd, Colchester, Essex, England Motor designed by John Vaughan Sherrin Modified horse carriages Broc 1909-1910, Broc Carriage & Wagon Co. Payne Avenue, Cleveland OH 1910-1914, Broc Electric Vehicle Co, 1663-1679 E. Fortieth St. (Office at 1671) 1914-1916, American Electric Car Company, the American-Broc, Saginaw, MI, with Argo & Borland. Capitalized in 1901 at $50,000 as the Broc Carriage and Wagon Co "to make gasoline cars and parts." No gas cars were made, but they were eventually successful as a coachbuilder. Incorporated in 1903 with Frederick A. Brand as President. 1909: Frederick A. Brand, president; Gay S. Clampett, secretary & treasurer. Broc got into motor vehicle manufacturing a bit late in the game for a Cleveland company. Some of the most successful car companies in the world were well established there by 1908. Baker had been making electrics since 1900 and was running its large factory day and night to keep up with demand. Rauch & Lang was Broc's competitor in luxury horse drawn coaches, and they had been doing well selling their electrified vehicles since 1905. The original 1901 3-story coach factory of semi-mill construction faced Payne Ave. They connected the back of it to a new 3-story brick factory, built in 1906, fronting E. 40th St. This combined factory wrapped around the mansion-like National Screw & Tack Co building on the corner of 40th & Payne. The first floor of the Payne Ave. wing was the garage and charging station, the second floor had the machine shop, and the third was for final assembly. The new building had a first floor office on East 40th Street at the corner of the building, partitioned off from the blacksmith shop. In the back was the wood shop. Body assembly took up the front part of the second floor with upholstering at the rear. Painting and varnishing took up the entire third floor. An elevator was near the center of the new factory along the wall closest to Payne, but the doors faced the back of the old factory. Both factory buildings had Grinnell automatic sprinklers fed from a 25,000-gallon water tank on the roof of the Payne Ave. building. The factory ran six days a week with a watchman at nights and on Sundays. 1910: A Cleveland sales room was leased at Euclid Ave. & East Twenty-first St. 1913: Broc opened a garage and salesroom at Euclid and East 13th St. 1914: January, Broc merged with Borland-Grannis of Chicago, IL and Argo of Saginaw, MI. Broc president Frederick A. Brand became president of American. Fred Buck, Bruce Borland and U. B. Grannis were VPs, and Theodore Huss was secretary/treasurer. The new holding company was called the American Electric Car Co. They expected to achieve savings by efficiencies of scale, but, other than marketing, they remained separate models from separate factories. The enterprise failed in 1916 as the war economy intruded, along with vigorous competition from Detroit Electric and Milburn. MODEL DESCRIPTIONS 1909 Introduced at the Cleveland Automobile Show in February. Platforms were initially based on the Byrider, whose assets they bought. Bodies were in the Cleveland tradition, with the doors hinged at the rear. Victoria Stanhope, 2-passengers, $1,900 1910 Broc's production was too low to justify setting up their own distribution: so they contracted with the General Automobile Company Chain-drive with ball bearings throughout, 80" wheelbase. D Stanhope, 2-passengers, 2 HP motor 80" WB, 22 mph, 1,950 lbs, for $2k Roadster, longer wheelbase, Cyclops headlight and carriage lights, wheel steering, electric style hoods, Buggy top Victoria-Stanhope, 2-passengers, $1,900. Straight front Coupé, 3-passengers, 30 cell battery, series wound 2 HP motor, $2.2k Extension Front Coupé, 4-passengers, 2-6 HP motor, 80" WB, 28 cell 11 M. V. battery, 2,350 lbs, 2.5K, 1911 Six models advertised, including a faux radiator runabout with steering wheel: meant to appeal to gentlemen. Chain drive with shaft drive optional. 32" wheels, solid or pneumatic tires. The Edison battery was available. 19 Roadster, 2-passengers, faux radiator, buggy top, no windshield, 60 Volts, wheel steering, Pneumatic tires (only), $2,100 20 Stanhope, Seats 2, 56 Volts, $2,000 22 Coupé, Coupé, 3-passengers, 56 Volt, $2,300 24 Coupé, 4-passengers, 60 Volts, $2,500 25 Coupé, 5-passengers, 60 Volts, $2,700 1912 Explaining the delay in receiving cars, which caused Broc to miss the mid February, 1912 Pittsburgh Auto Show, it was said the factory was not able to keep up with demand, and they were planning a new factory to triple capacity. Eight models, shaft drive, or enclosed chain. The controller was in a dust proof aluminum enclosure. 19 Roadster, 2-passengers, 30 cell 135 AH battery, 2,300 lbs, 84" WB, Steering Wheel 20 Stanhope, 2-passengers, 2,300 lbs, 84" WB 22 Coupé, 3-passengers, 25 mph, 28 cell battery, 100" WB, 26 Extra-Extension Coupé, 4-passengers, 85" WB 28 French Brougham, 4-passengers, 95" WB, and weighing 3,250 lbs 30 French Brougham, 6-passengers, 40 cell Exide battery, 100" WB, $3,200 1913 Larger cars featuring a low hung chassis with 24" of ground clearance and longer wheelbases, 40 cell battery under front and rear hoods, continuous torque controller, electromagnetic brake actuated by controller, rear drum brakes with electrical cut out by foot pedal. 2 HP Westinghouse motor, The silent chain reduction was replaced by a double set of bevel reduction gears at the axle housing, with a direct coupled motor at the other end of the propeller shaft. They had a one-year guarantee except tires & battery. Seat upholstery was 8½" deep, with a slanted back. A toolbox slid out from the heel board. New anti-rattle fasteners were on the movable glass. Lever or wheel steering were available. 20 Stanhope, 2-passengers, 84" WB, $2,100 21 Victoria, 2-passengers, 84" WB, $2,050 Add jump seat for $50 22 Coupé, $2,300 24 Coupé, $2,400 26 Coupé, $2,600 28 Brougham, 5-passengers, 96" WB, Fore-drive with a tiller, 40-cell battery, the frame was dropped 4" in middle, $3,000 29 Brougham, 5-passengers, 96" WB, rear-drive, revolving pedestal seats in front, $3,100 31 Brougham, 5-passengers, 96" WB, Fore-drive, wheel steering, foot actuated speed control, $3,500 1914 3½ HP motor, 24 MPH, with Klaxet horn or electric bell, and a tool kit. The open cars were no longer sold. Broughams were made on the old 96" wheelbase, or with a new 98" wheelbase chassis. 28B Brougham, 5-passengers, front drive, 96" wheelbase, $2,900 29B Brougham, 5-passengers, rear drive, $2,950 31B Brougham, 5-passengers, front drive, $3,150 32B Brougham, 5-passengers, fore drive with wheel, $3,000 33 Brougham, rear drive, $3,100 34 Brougham, rear drive, 98" wheelbase, $3,100 35 Brougham, limo style 98" wheelbase version of m 32, wheel steering at front seat, $3,150 36 Brougham, Double-Drive, 5-passengers, 98" wheelbase, 133" overall length, five speeds, with 40 cell 11 plate battery, $3,200 1915 All models were on the same platform, with a 96" wheelbase, 34 x 4" cushion or pneumatic tires, 40-cell 11 plate 137 Ah Hycap battery, Westinghouse motor 28 Brougham 29 Brougham 31 Brougham 32 Brougham 33 Brougham, rear drive, $3,100 34 Brougham, 5-passengers, front seat drive, $3,150 33 Brougham, 5-passengers, rear drive, $3,100 36 Brougham, 5-passengers, double-drive, $3,200 1916 Models 31, 33, & 36 were continued. Bronx 1911-12 Bronx Electric Vehicle Co, New York City Commercial Vehicles Brown Street Boat 1902 Belfast, Ireland Electrician J. Brown made a four-passenger float, riding on four wheels. The principle difference between this carriage and others of the time was that the wheels were inside the bodywork. The only suspension was the spring spoke wheels. There was an eighty-four Volt 120 Ampere-hour Fulmen battery powering a 4½ HP motor. The motor drove a countershaft by chain reduction; the axle was driven by two gear ratios selected by magnetic clutches. Four total speeds were available by the addition of series/parallel battery switching. The front wheels were mounted on forks and steered by a ship type cable and drum system. Brunn Electric 1906-1912 Brunn Carriage Manufacturing Co 1140 Main & Summer streets, Buffalo, New York. Henry Brunn, with his nephew Hermann A. Brunn. They did not get along, and few cars were made. Hermann left to establish Brunn & Company (coach building), also in Buffalo. Nelson Baker was the automotive sales manager. Brunn later sold Rauch & Lang and Milburn cars as well as gas cars by Franklin, Peerless, and Pennsylvania. Brunn also made electric cars for Clark, Van Wagoner, and Lennox. Their cars were rather modern for 1906, and had the motor forward with shaft drive, similar to Baker. They had 30" artillery wheels and a steering wheel. The later cars had regenerative braking. 1906 Phaëton Stanhope Coupé, inside drive Brush Brush Electric Co. Office 379 Euclid Avenue Factory, Mason St. between Belden & McHenry Streets, at the Pittsburg RR line, Cleveland OH. The Brush Electric Co was a manufacturer of electric lighting (arc & incandescent), carbon rods, storage batteries, generators, motors, and electroplating equipment. M. D. Leggett, president; G. W. Stockley, V-P treasurer, & general manager; William F. Swift, secretary; Nathan S. Possons, superintendent; William J. Posssons assistant superintendent. Industrialist Charles Brush made a fortune from his carbon arc lighting and dynamo/motor patents. Brush held the American patent for a pasted plate battery. They bought the (British) Swan patent rights (North America) for a filament light bulb, and were marketing electrical generating and distribution systems, making them Edison's direct Competition. Brush lit Broadway a year before Edison lit Wall St. Most of Brush Electric was purchased by Thomson-Houston, which then merged with Edison General Electric in 1892 to create the General Electric Co we know today. In the spring of 1886, Nathan S. Possons directed the construction of an electric tricycle for the Brush Electric Company, to demonstrate their ribbed-pasted-plate lead acid battery. It had a Brush motor and a Swan electric headlight. The Brush Battery patents were sold to the Electric Storage Battery Co (ESB) in Philadelphia. Buffalo 1900-1905 Buffalo Electric Carriage Co. 400-800 Military Road, Buffalo, NY Garage at 240 West Utica St. Frank A. Babcock had a large carriage company in Amesbury, MA, which burned down in April 1888. Après flambé Babcock built a new factory, but the company was dissolved shortly thereafter. F. A. Babcock –– an excellent salesman who was happy to spend money to make money –– Left Amesbury to became an agent for the Mutual Life Insurance Co of New York, in 1893 he become the Western New York regional agent, headquartered in Buffalo, with 40 agents working under him. Buffalo, at the time, was the eighth largest city in the United States with a population of around 350,000, it was a Great Lakes port city with excellent rail links to the rest of the country. After high-tension Alternating Current power lines arrived from nearby Niagara Falls, Buffalo, New York had the lowest electricity rates of any sizeable city in the nation, making it a prime location for electric car sales. Babcock commissioned battery maker Theodore A. Willard to design a prototype Stanhope, Willard also provided a battery of his own design, and talked Morris S. Towson, of the Elwell-Parker Electric Company, into making low-voltage traction motors for battery cars. Babcock used the prototype to attract investors. In March of 1900, Babcock and sons went into the electric car business in Buffalo: with Isadore Michael, Edward Michael, Cassius M. Carrier (lumber), Henry C. Diehl, E. C. Randall, Theodore S. Fassett, Jacob G. Amos, Charles M. Warner, Leonard B. Crocker, and F. B. Robins. MODEL DESCRIPTIONS 1900 June, the first production car was made, a Stanhope. This model was the company's main product through 1905, after which the model line was expanded. The Model 1, with minor improvements, remained available (as a Babcock) through 1909. 1902 The early cars were carriage-like 2 or 3 passenger Stanhopes, with wishbone shaped reaches made of hickory, bolted to the center of the front axle, and at either end of the rear axle tube. The body was suspended above the gear (platform) by full elliptic springs at all corners. Standard colors were blue or green. An 80 Volt 2½ HP Elwell-Parker motor, with two field sets, was bolted to the rear axle tube and supported at the forward side by a cross member on the wishbone reaches. It drove the right rear wheel through a spur gear on the armature shaft, which coupled with an external tooth ring gear, all enclosed in a cast-iron cover, at the wheel hub of the axle. Torque was transferred to the left rear wheel through an enclosed rolled-steel live axle. A brake was on a drum at the left rear wheel actuated by a foot pedal, with a ratchet mechanism for parking. The motor also functioned as a dynamic brake for downhill stretches, and had a field shunt for extra bursts of speed on level ground. A tiller was at the center of the car right behind a leather dash. Collinge type hand forged front axle with simple yokes for Ackerman type steering. Leather folding top, leather bicycle fenders, carriage lights on either side of the seat. With ball bearings throughout, and a Weston type R duplex meter. It had a top speed of 17 mph with the field shunt engaged, with a 50-mile range at more sedate speeds. 1,800 lbs, $1,650 1 Stanhope, The Stanhope body was designed by Charles H. Palmer, $1,650 2 Golf Brake, 4-passengers, two 2½ HP motors, with hickory wishbone reaches, $2,200 1903 1 Stanhope, 2-passengers, 1¼" diameter forged front axle, 1¾" tubular rear axle, Ball bearings throughout, The chassis was of hickory, Victoria top of H. B. Leather, motor breaking and a double acting drum brake at the left hub. 2½ HP Elwell-Parker motor, 40 cells, six forward speeds, said to go 17 mph for 50 miles, 1,800 lbs, $1,650. 2 Golf Brake, 4-6 passengers on tandem seats, center tiller, enclosed spur & ring drive at both rear wheels, 17 mph, two 2½ HP 80 Volt motors. Tonneau, Touring Car, four-passengers, with a steering wheel. Designed by F. A. Babcock Jr. Buffalo built the first two cars for a run from Boston to New York. The lead battery car was designed to be capable of 25 MPH and 75 miles on a charge. Weighing 3,600 lbs. It had two 5-hp motors with a battery of 40 cells and 19 plates each. The car was recharged four times during the 240 mile run. A second car followed the next day with the recently introduced Edison battery having 68 cells. 1904 1 Stanhope, 2-Passengers, 2-½ hp motor, 1,800 lbs. $1,640 2 Golf Brake, 6-Passengers Surrey, twin 2-½ hp motors, 2,200 lbs, $2,200. Tonneau, as '03, two 5-HP motors, 3,600 lbs, $5,000. It is possible that only the two 1903 Touring cars for the Boston to New York City publicity run were ever made. Only the Stanhope and Brake were exhibited at the 1904 auto show. Except for the Columbia Mk XXXV eight passenger "Private Bus," this Buffalo Touring car was the most expensive electric offered in 1904, and, for the same price, a four-cylinder Pierce "Great Arrow" was a better choice. 1906-1912 See Babcock 1913-1915 Buffalo Electric Vehicle Co. 1219-1247 Main St. Buffalo, NY 1912 the company was organized a third time on April 28, 1912, back to the Buffalo brand name. It was merged with the Buffalo Automobile Station Co (240 W. Utica), and the Clark Motor Co (2665 W. Utica St), a dormant truck maker holding some Van Wagoner patents. F. A. Babcock's remaining equity was bought out with stock. His suggestions were ignored and he stopped supporting the company with his reputation. It did not take the new management long to run the company into the ground; and his shares became worthless. Samuel J. Dark, who made a fortune building sewers, was president; A. A. Landon, VP mfg; William A. Morgan, VP sales; Harry Yates, treasurer; Alfred W. Thorn, secretary. With Jacob Amos, Frank L. Pabst, Laurens Enos, Howard A. Forman, O. E. Foster, Henry D. Knox, Frederick F. Klinck, William H. Kinch, Harry T. Vars, & Moses Shire. Wm. R. Huntley of Buffalo General Electric & Robert W. Scarlo of the Rochester Railway & Light Co were added to the board a bit later. 1913 The new Buffalos had 42-cell 140 A-H Philadelphia (Philco) batteries, a 100" wheelbase, and 5 speeds. Shaft drive, with a single 4-1 reduction at bevel drive rear end. The motor was suspended with a pair of trunnion joints on either side of the motor, with a ball-and-socket to the middle frame cross bar. Wire wheels were standard. With Renault style front hoods and 20-HP parallel wound Diehl motors designed by F. G. Peck. 29 Roadster, 2-passengers, 35 mph, Wheel steering. 100-mile range, $2,600 30 Coupé, 4-passengers, $2,900 Brougham, 4-passengers, forward drive, $3,000 30 B Coupé, 4-passengers, forward drive, doors hinged at front, $3,300 1914 29 Roadster, 2-passengers, 32 MPH, $2,600 30 Coupé, 5-passengers, $2,900 30 B Coupé, 5-passengers, fore drive, 100" wheelbase, $3,000 1915 36 Brougham, Designed by F. G. Peck, 5 individual seats, wheel steering at center of car slightly forward of rear seats. The brake pedal controlled the regenerative braking and speeds below 9 mph. When it was fully released, higher speeds were governed by the controller lever (with 18 steps) on the steering wheel. 102" WB, Timken rear axle with helical bevel drive, $3,250 Bugatti 1926-1935 52 Baby Bugatti, a half scale model of the Type 35 racecar: made for the children of customers. They had a 12 Volt electric motor on the rear axle, wood brake shoes, 4-speeds forward or reverse 1.2 & (later) 1.35-meter wheelbase, .62-meter track. Opinions range from 110-499 as to the number of cars originally made. Making replicas of this car has been popular for years, some electric, some with pedals, and some as conversation pieces. 1931 56 Runabout, 2-passengers, 36 Volt 28 Amp motor, tiller steering, Motor on rear axle, 4-speeds to 17.4 MPH, at least eight were made, one was Ettore's personal vehicle, for running around the factory campus. Bushbury Electric Dogcart 1897 Wearwell Motor Co. (E.C.C.) Wolverhampton, Staffordshire, GB. A tricycle dogcart with a two pole series wound motor, three speeds, to 12 MPH, Renold chain driving both rear wheels, Fauré-King type 40 cell battery made by the Electrical Power Storage Co Designed by Thomas Hugh Parker (son of Thomas Parker of Elwell-Parker Ltd.), steered by reins to the handlebars. Byrider 1907-1909 Byrider Electric Auto Co, 1948 E. 55th St, Cleveland OH. John & William A. Byrider. Victoria based on the Williams. The early version had a 2½ hp motor on a 71" WB, and the later model had a 2 hp motor on a 72" WB steel frame, $1,800. 1909, the equipment and parts were sold to the Broc Carriage Co.